Recording
Description
MP3
Sample Title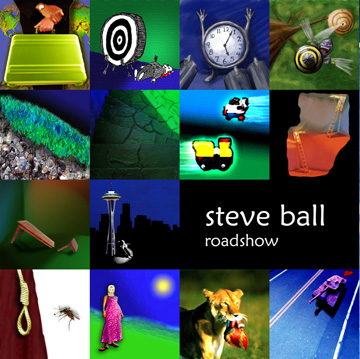 Steve Ball
"Roadshow"
"Roadshow" features fifteen original acoustic math-pop short story songs arranged for multiple voices, multiple guitars, drums and percussion
All songs by Steve Ball except where noted. All arrangements by the players.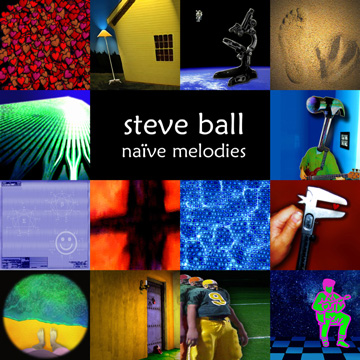 Steve Ball
"Naive Melodies"
"NaÔve Melodies" features fifteen obscure but familiar cover songs clothed in unique arrangements for multiple voices and multiple guitars. All arrangements by the players. Features a vocal version of Yes' Starship Trooper" with Tony Levin on NS Electric bass.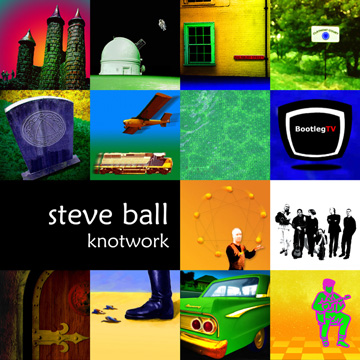 Steve Ball
"Knotwork"
"Knotwork" features fifteen instrumental ambient acoustic guitar interludes and remixed arrangements of new, historic, and select songs from the Steve Ball Roadshow live repertoire. Features an instrumetnal version of Yes' Starship Trooper" with Tony Levin on Acoustic bass.
The CD from the Seattle Guitar Circle, featuring Steve Ball, Jaxie Binder, Curt Golden, Dean Jensen, Bill Rieflin, and Bob Williams. An intimate, acoustic CD highlighting the recent work of this unique and engaging performance team.
2.6M
Bloed Spoed
607K
A-flat Circulation
1.9M
Invocation
---
A definitive Steve Ball CD featuring gentle, textural, hummable songs sung by multiple voices and arranged for large guitar ensemble. An unusual blend of musical influences including the League of Crafty Guitarists, Steve Reich, Simon and Garfunkle, Jonatha Brooke, and Peter Gabriel.

296K
Dark
292K
Back in NYC
335K
Curtains
---
A solo CD of collaborations and re-mixes; featuring drum loops by Jan Pulsford, a collaboration with Santos Luminosos, and multiple acoustic and electric covers of Paul Simonís "The Boxer."
78K
Acoustic Ballistic Boxer
164K
Electric Ballistic Boxer
105K
La Casa de Nada
---
An intimate solo CD of acoustic vocal and instrumental Steve Ball songs recorded in late 1998 with producer, R. Chris Murphy.
169K
Hollow
236K
When the Money's Gone
229K
Greenthumb
---
This all-live CD features Steve Ball, Martin Schwutke, Fernando Kabusacki, Christian de Santis, and Argentinean drummer Fernando Samelea. Also includes guest performances by Bill Rieflin, Trey Gunn and Tony Geballe.

Recorded live in Seattle and Buenos Aires with two configurations of Electric Gauchos!
69K
Blockhead
116K
Blue Orb
152K
Asturias Industrial
---
Hernan Nunez, Fernando Kabusacki, and Steve Ball recorded their first full-length CD in South America. This is a special limited edition CD-ROM from Discipline Global Mobile Recording Artists LGA, and it features their award winning video "Voices of Ancient Children" for MAC and PC. 45+ minutes of moving instrumental music.

71K
The Whip
40K
Vrooom
93K
Ugly Enough
---
The final 1991 tour of Robert Fripp and the League of Crafty Guitarists features Steve Ball, Curt Golden, and Tobin Buttram of the Seattle Guitar Circle. This is a brilliant live recording which captures the League at one of its high points during the various 1987-1991 tours.
80K
Cheeseballs
183K
Circulation
142K
Fireplace
---
all samples are for promotional purposes only
©2004 Ballistic Music
---