Recent Work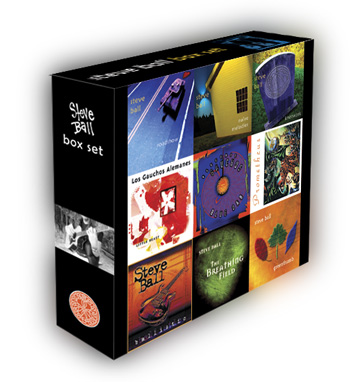 Steve Ball Box Set: Music Samples and Song Details
* * *
SB "Weed Files"
What is 'Weed' ? Weed is a new, legal music file sharing mechanism created (partially) by my friend, Seattle entrapreneur, Steve Turnidge.
You can download and play these 'weed' files 3 times for free, after which time, you have to pay $1.00 to continue to listen. The artist gets paid directly from your payment, and a percentage of the sale goes to the person or entity who recommended the file to the listener. Weed technology is based upon Microsoft's WMA format and DRM, and unfortunately, this only works on PCs right now. But what a great way for musicians to get paid directly for distribution and consumption of their work. Please download and pay for these songs if you find them inspiring or useful to you:
Complete SB Roadshow Songs to download and preview 3 times:
* * *

Prometheus CD 1993, featuring SB, Sanford Ponder, Pat Mastelotto, Nigel Gavin.
* * *
SB Recordings

From Steve Ball Greenthumb CD 2000
* * *
Electric Gauchos
From Electric Gauchos, Blue Orb CD 1997, recorded live at Broadway Performance Hall (Seattle) and in Buenos Aires. Featuring Martin Schwutke, Fernando Kabusacki, Tobin Buttram, Christian de Santis, with special guests Tony Geballe and Trey Gunn.
* * *
Earlier SB Solo Recordings

From Steve Ball Ballistic CD 1998
* * *

From Steve Ball the Breathing Field CD 1999
* * *
SB Roadshow LIVE
SB Roadshow, (SB, Travis Hartnett, Travis Metcalf)
LIVE at Pitcairn Scott Art Gallery, March, 2002
SB Roadshow, LIVE at Cat Hair House Concerts,
July 14, 2001; recorded to DV-cam by BootlegTV field correspondent, David Lavallee.
* * *