Jump to a specific date this week
Monday December 27
Tuesday November 28
Wednesday December 29
Thursday December 30
Friday December 31
Saturday January 01
Sunday January 02
Previous weeks
third week of December 1999
second week of December 1999
first week of December 1999
fourth week of November 1999
at-a distance diary, Oct-Nov 1999
---
Monday December 27
Flew back to Seattle today. Still technically on vacation, so no diary until tomorrow.
* * *
Tuesday December 28
Back in Seattle after a refreshing week with my parents, sisters, nephews and niece. As predicted, my week was full of sleeping, shopping, movie watching (American History X, the Usual Suspects, Toy Story II, and Say Anything.)

In 1993, I received a letter from someone named "Cameron Crowe" inquiring about the controversial Mary Lou Lord tape "Real" which I produced with Sanford Ponder for our "deep music" label. I was not sure if he was the Cameron Crowe, but I sent him a copy of the tape anyway. (The Mary Lou/deep music saga could be the subject of an entire book - perhaps one day it will.)
Then in 1998, I met Cameron Crowe (director of Say Anything, in case you are wondering why this long tangent) at a party at Ann Wilson's house. If I had had half of a brain at the time, I would have asked him if he ever received the MLL tape I sent. A few weeks after the party, I also gave Nancy Wilson (Cameron's wife) one of the few copies of the Mary Lou tape that still exist. Nancy's comment at the time: "oh no,... I hope she's not another one of these new young female singers with a 'little girl' voice..."
Hmmm... Nancy never mentioned the tape again. Uh,... I guess Mary Lou does sort of have a 'little girl' voice after all. Oh well. To this day, I remain a huge Mary Lou fan and supporter. Someday, I'll tell that story. But not tonight.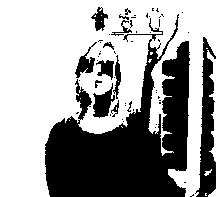 Mary Lou
* * *

I am home and rested. This week will also be fairly quiet as I am only working part of the week at MS. I intend to spend the majority of this week taking care of business at home and preparing for the BootlegTV tidal wave that is about to hit Seattle. Apologies to those who don't understand this perhaps vague reference. If you continue to follow my diaries into 2000, this will become clearer as the year progresses.

I suppose that last sentence drops a not-so-subtle-hint that I will be continuing this diary into the new year.
Yes.
This is one of my new years 'resolutions' which I composed during my flight back to Seattle. Actually, I think 'resolution' is the wrong word to describe what I have written about my outlook for Y2K. A better word may be that I have a list of new year commitments. In our culture, the idea of a new years 'resolution' seems to imply that if life gets hard, that it will be okay to change my mind and drop this bright idea before February crashes into my dreamy-good-but-weak intentions.

A real commitment is a forward projection of something that will happen.

I have at least 15 solid years of practice in making both large and small commitments under my bulging belt. My track record is pretty good in this department, despite the often depressing fact that six years ago, I failed in my greatest commitment: my marriage to my former wife, Karen Thomas.

Assuming I go public with my 2000 list, I won't post these commitments until January 1st (assuming Y2K does not destroy my ability to ftp to my server.) A part of me wonders how wise it is to be so brutally transparent in such a potentially public forum.

Just what I need: my close friends and voyeuristic strangers crawling into my daily thinking processes and holding me accountable.
Even worse: my close enemies doing the same.

* * *

Some good BTV progress this afternoon and early evening. There is well-established start-up lore about the fact that company org charts become obsolete as soon as they are printed. This may be true, however, during that nanosecond while the ink is drying, they are still a useful tool for visualizing how a team might be structured to accomplish a goal.

I also realized toward the end of the afternoon that I need to get a copy of MS Project on my home PC. An org chart is a static snapshot of one point in time. MS Project, despite it's bureaucratic connotations, is a remarkably useful tool for planning the application of interdependent resources over time.

There is a time and a place for planning on napkins and in notebooks. For BootlegTV, that time has passed.
It is now time to use professional tools for rigorous analysis. The bad news: even with these amazing tools, there is still major stabbing in the dark going on...

* * *

The Guitar Craft diaries are finally posted! Some excellent behind the scenes work by Curt Golden, Adam Levin, and Pablo Mandel has been fruitful. The agony and humility of public diary writing will now be shared by a larger team.

I'm looking forward to reading these. This is perhaps the first practical material application of 'contact at a distance.' I wish Dean, Bob, and Jax were keeping diaries as well. It would be great to document the day-to-day progress of their current work within the SGC and within their busy, yet intensely musical, lives.
Reading through Ferni's diaries really has me missing Argentina in a big way - reading his diary has filled me with a strange kind of homesickness.

Who would I be now if I had moved to Argentina instead of joining the MS-borg in 1996?
* * *

Obligatory annoying UI complaints about the GC diaries as they are now (sorry, I design UI for a living):
a) navigation between individual day entries is a pain, and requires using the back button

b) there is no indication of what the latest posting is in the main name selection drop down menu.
Details, schmetails. This is a great step forward for Guitar Craft. And I'm sure GC Diaries v3.1 is already in the planning stages.

* * *
There was an extremely generous posting by Owen Tremby in the Elephant Talk newsletter today about Ballistic music releases. Over the past two years, Owen has been a very supportive audient and customer.

I wonder if this will translate into any new eyeballs stumbling onto the Seattle scene? The truth is that I'm not primarily interested in selling CDs. In fact, I write off all of my CD production expenses as an 'advertising and promotion' expense. Besides documenting an ongoing musical process, Ballistic CDs are primarily tools to attract attention to the live work that is going on here in Seattle.

Ballistic: Music with an aim. What is the aim?

To attract and empower a new generation of musicians, performers, instructors, and audients to come to Seattle to work with us to build our school here. The school is not a building; it is simply a place where musicians are born and nurtured. These musicians are the means by which living music is born and nurtured.

Oh oh.
More dangerously honest words are spewing out of my fingers. Enough for now or I'll dig myself a deeper hole than I am already in. Dangling prepositional-ascii-talk is cheap.
Wednesday December 29

Met Curt at 9:30am outside the Commuter Building, in downtown Seattle for a tour of the future potential BTV headquarters. Then we were off on a downtown real estate tour for 2 hours followed by a short trip down bureaucracy lane at the downtown branch of Wells Fargo. With customer service like this, who needs customers?
Did WF mean to drive us away to become Silicon Valley Bank customers instead? WF corporate customer service reps does not seem to understand the concept of internet time.
No problem, however. With some gracious help from Mary S. at VL, we had our BTV account open and ready for huge cash inflow before 3pm.
* * *
This entire city seems to be on vacation this week. Getting downtown this morning was a breeze.
* * *
A delightful dinner with Brian and Emily Schmidt this evening. Brian is currently MS Program Manager for DirectMusic and DirectSound, and he is one of my ultra-sane friends within the MS borg. Brian is also a killer bass player who grew up in the Chicago area. Before joining the borg, Brian was a composer, musician and engineer for some rather notorious video games. He apparently worked quite closely with Slash to create an interactive Guns and Roses score for the G-n-R pinball machine.
I was fortunate to be able to spend some time in NYC last August hanging out with Brian (and Tony Geballe and Larry Fast) at the IMX Interactive Music conference in NYC. It makes me quite sad to realize that tonight has been our first chance to socialize since August.
Brian is also a bass player -- I invited him to sit in on an SGC rehearsal in January to get a glimpse of what we do. I also gave him a late christmas gift this evening consisting of the SBOX: 'intergalactic boogie express,' 'little beast,' 'blue orb,' 'ballistic,' 'the breathing field,' 'twilight,' and 'greenthumb.'
Quite a catalog when you line these CDs up side by side. But enough horn tooting. I hope Brian finds this diverse pile of music inspiring and energizing.
* * *
Received a gift copy of Fernando Kabusacki's new CD, 'The Planet' in the mail today which I am listening to as I type this sentence. One particularly funky piece is grinding away, and I recognize the time and tone of my favorite Argentinean drummer and fellow Electric Gaucho, Fernando Samalea.
Ferni Kabusacki is a masterful sonic painter. His music is gentle, soothing, moody, textural, and extremely visual.
The music on his new CD is no exception.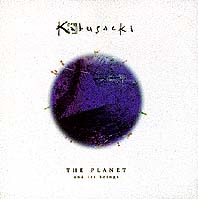 Now a Gabrielesque-San-Jacinto marimba texture with minimal sax harmonies is pumping synchronously with my blinking cursor. A warm blast of south american gaucho-Kabusacki energy has filled the room.
I'll have to order some copies for redistribution in the Seattle area.
Congratulations Ferny on the new release! Another significant milestone in the process of building an exceptional catalog of excellent music.
Ferny's web site is also pretty spectacular. A Pablo Mandel design, no doubt.
* * *
Mail from Bob today about an ultra-secret project which might be happening in the Western and Vine rehearsal space next week. Not supposed to talk about it.
Oops.
Sounds pretty cool, though. You did not hear about it from me.
* * *
Dean called this afternoon -- I owe him a phone call back. Seems that many of us are hovering in a zone where there career-change-potential in the air right now. Better call him back now before it gets to late.
* * *
Also, a nice call from Jax earlier tonight -- I stopped in the bar in my health club on the way home tonight to do some writing in a public place, and Jax found me on my cell phone.
It was really great to hear her voice.
It's amazing how playing in a group can bring us so close together. The break from intense SGC work has been nice, but in a weird way, I also miss my SGC pals, our shows, and rehearsals.
Sounds like I also missed a great show (that was organized by Stephen Golovnin) that happened on the 21st.
Sigh.
* * *
Y2K, Y2Schmay.
* * *
Thursday December 30
Began the day with a walk on this cold Medina morning. Enjoying quiet solitude - my walk felt like a 'sitting,' but on my moving feet. Back home, and a quick survey of the day.
A few required communications and phone calls. All else is optional today. And my option: ignore all but the essential.
Listened to Ferni's new CD four times today. This music complements my current mood perfectly.
Non-verbal. Introspective. Like a sonic magnifying glass.
* * *
Sanford left a message on my voice mail -- he had some kind of 'fall' and he has a broken rib and a broken vertebrae. Yikes! Paragliding or motorcycle, I wonder? Given my own lower back problems of this past year, I have extreme empathy. Life is short, and full of surprises, not all of them pleasant. I am amazed at how we routinely sail through dangerous and remarkable situations, unscathed.
Most of the time.
When I was in the midst of my worst back pain last summer, I had a very real sense of my pending mortality. This is part of where my own 'pelota' energy comes from -- Since I was 15, I have had an ongoing and almost constant awareness that our days our numbered -- and this is a small number.
Every second counts.
If this were to be my last day on earth, would that change my priorities? Would today's schedule be any different than it is right now? Constant reset: who am I? Why am I doing this thing that I am doing right this minute? What matters?
* * *
Right now, what matters is Tori Amos' new live CD blasting in the background: Everybody else's Girl, (with Matt Chamberlain on drums.) What an amazing song.
I did a session with Matt about two years ago for the Joe Skyward CD with Amy Denio on soaring vocals; -- I played with Matt on an instrumental called "Taxi De L'Espace." I played a live textural loop and then did a ballistic solo over Rosin Dunne's (former Seven Year Bitch guitarist) punk power chords. One take for everything. Got lucky that day.
Matt is a great pop drummer, (almost as great as Brock Pytel...) and I'm happy to see he's become Tori's main live and studio drummer.
This may come in handy early next year as BTV kicks into gear.
* * *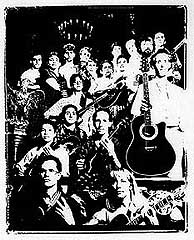 Found this old League photo today while filing some paperwork that was stuck in my 'to file' box. This was taken by Rick Silverness in 1988 at Washington Square Church.
Let's see if I can get them all, front to back. left to right:
Tony Geballe, Debra Gavalas, Laura Gabbe, Bob Williams, Curt Golden, SB, Steve Jolemore, Andrew Essex, Ralph Gorga, Adam Levin, Victor McSurely, Trey Gunn, Jon Diaz, Patricia Leavitt, Michael Black, Scott Buckner, Michael Russell, Pietro Russino.
Wow - not bad - even without caffeine. Human memory is a strange and intangible miracle.
* * *
During my walk this morning, I remembered that Curt showed me the first copy of Frank Sheldon's new book, The Jonah, yesterday while we were in the parking lot of Venture Law. It looked great. Can't wait to get my 'patron' copies! Maybe tomorrow evening?
* * *
Nice message from Brock on my machine this afternoon - back from his Canada Christmas with Heather and Clem.
Need to let him know about our New Years Eve plans. One of the necessary calls today.
* * *
Whoop-dee-doo department: Twilight and Greenthumb are now available on Amazon.
Now, tens of millions of web surfers can ignore these CDs instead just of those surfers who visit and ignore them on the Seattle Circle site. While at Amazon, I found and bid on a Michael Gira CD which Bill Rieflin produced a few years ago. The poor auction seller was only asking $8.00. And he had no bids yet.
Such a deal.
Plus, I never heard the final mastered CD after Bill played me the rough mixes a few years ago. All I remember is that it was pretty good stuff, and it featured a very personal recording of a conversation between Michael and his wife that was woven beautifully into an industrial trance-texture-drone.
Typical Rieflin production values: something disgustingly horrible delivered gently in the most beautiful box. Or vice-versa: a mélange of something insanely beautiful that is totally charred, torn, decayed, or exploded around the edges.
Bill and I went to see 'the Swans' show at the Fenix on their 'final' tour a few years ago. The complete conviction of the musicians on the stage inspired me immensely, and the power of this one show became my reference for the long-ish rock arrangement of Bert Lams' League of Crafty Guitarists composition, "Asturias," which I arranged and played with the Electric Gauchos.
For the live recording from the Broadway Performance Hall that ended up on the CD (with Trey on Warr Guitar, Tony on 12-string, Tobin on Electric stat, Ferny and Martin on Electrics, and Bill on pounding drums,) I renamed the new and potentially sacrilegious arrangement 'Asturias Industrial.'
The piece was meant to be played relentlessly with complete conviction for ten minutes, building up in both volume and intensity slowly over time. Live, that night of March 6th, 1997, we managed to sustain our conviction for only 5'45". None the less, for me, this piece is the highlight and climax of the EGauchos CD.
But what do I know?
How could I possibly be objective about my own work? I have no illusions that I am a normal person or that my eclectic, jonatha-brooke-meets-gentle-giant-tainted taste is similar or resonant with that of anyone else.
Beginning and end of the story: I simply know what moves me, what brings me to life, what wakes me up, what sends chills down my spine.
* * *
Nice email from Pauly today. The CGT are trying to get into the Folk Life festival. Deadline for applications was December 10th, but maybe they can pull some strings. I emailed him contact info as well as info about the Whidbey Center for the Arts. Hope to see the CGT in Seattle a few times next year.
Who knows, maybe Bert will even move to Seattle someday. Oops. There I go again.
* * *
Friday December 31
* * *
Wow. Final day of 1999, of this millennium. Rather than dump a pile of words into this page, I'll leave it simple with a few quick snapshots from this past year: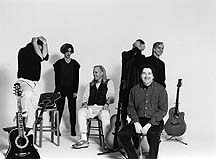 SGC photo shoot with Ingrid at MS Studios.

During 1999, the secret cafe
morphed into the Roadshow.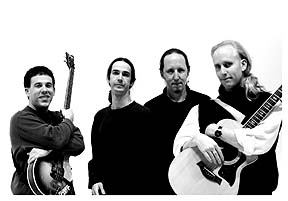 The quartet, in it's hopeful phase.

Curt Golden, Steven Rhodes, Brock Pytel, SB.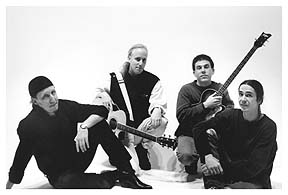 The lesson: beware the first photo shoot. It is the
sure sign that dissolution is just around the corner.
* * *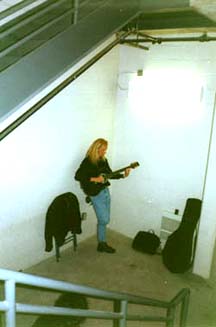 Stairwell practice.
* * *
One small bit of wordage to clear my heart, and get something off of my chest that has been bothering me on and off during this past year.
I spent some time backing up old web sites this afternoon from the bulging hard disks on my home PC. In the process, I took a look at some of the diverse web site designs I've done over the past five years. (Someday I will repost the original Rockslide website that was considered quite cutting-edge back in 1994.)
Anyway, during my disk cleaning, I also stumbled upon my original Gauchos web site design which, in mid 1998, was taken over and "redesigned" by Herni.
For the record, I have nothing to do with the Gauchos site as it exists today, even though I have been paying the $25 per month for the past three years to keep it running.
But I did design the original gauchos site -- and I do still own the URL. But not for much longer. For those who are curious about who the Gauchos were between 1994-1996, here is a link to my archive version of the original Gauchos web site:
Of course, in classic foot-in-mouth-pelota-mode, I've also added a short but accurate epilogue regarding Gauchos history describing the time and circumstances around the group just before I 'retired' from Los Gauchos Alemanes in 1998.
* * *
Also from the original site, here is a screen shot from the Voices of Ancient Children video which is on our original version of "Little Beast."
Perhaps in an effort to bring some closure and clarity to some of my personal musical history of the past decade, I've, in fact, opened another can of worms.
If so, so be it.
* * *
Alright, I was wrong. More words are hovering just behind my fingers. Please grant me just one more brief backward-looking tangent before the end of the millennium.
Last January 2th (1999), I called a meeting of the Seattle Guitar Circle extended team to discuss our work for the up coming year. We met on Saturday January 2nd for a sitting followed by this meeting in Bob and Jaxie's living room. At the meeting, I passed out hard color copies of the following audacious (398K) document for review and consideration:
For the few who dive into this document, you might discover that we adopted "Solution C" as our default response to "proposal 8." This strategy worked well during this past year. I'm not sure it will work again this next year. But we shall see.
During the meeting, it again became clear to me how radically different our perceptions are about what we are doing here in our work together.
Many of the ideas and suggestions presented in this challenging document were straight out of the standard pelota playbook: ambitious ideas presented as a snapshot about what might be possible if we could work together and shift beyond our normal coasting mode of operation. This was a quick picture of a potential, difficult, but viable, future process presented in a somewhat ballistic manner (and perhaps prematurely) to a skeptical audience.
The good news: despite some of the initial grumbling, and skepticism (occasionally bordering on cynicism fueled by long periods of inaction or ineffective action) within our extended team, as I look back and reflect upon our extensive and intensive music work of 1999, many of the aspirations and goals which were set out at the beginning of the year are now well underway.
Jeeze. Nice run-on.
Many of the ideas presented in this still somewhat ambitious document, are as yet unrealized. And as a group, we still have much to learn. We still suck at meetings. We still have trouble with money, both bringing it in, budgeting it, and spending it. We don't measure or value our opportunity costs nor do we account for our intangible capital expenses. Our personal accountability and level of commitment to our musical work varies from person to person and from week to week. Our responsibility and personal accountability to our music BUSINESS work is still almost non-existent (although we have taken some great strides forward in this department this past year.) Our work with our (read "My") crumbling and outdated gear is unprofessional. We expect and rely upon heroic efforts which are unsustainable over the long haul. We still are not sufficiently empathetic nor are we articulate with each other about what it is or why it is that we are doing what we are doing. Our perceptions about that which is right in front of our faces are often at odds. And we still push each other's buttons on a fairly regular basis. Take today's entire diary entry as a prime example. I've probably even pushed buttons on multiple continents with this one day's writing.
Welcome to life within a group.
I wonder how much worse it would be if we all knew what each other were really thinking? Perhaps the growing body of diaries will soon provide an answer for that one.
The truth is, it would not matter if we were playing in a band, building a bridge, building a web business, or raising a family. All of these problems which I mention above are universal human problems, not something unique to the Seattle Guitar Circle.
Duh.
So much about our future depends upon our ability to learn to work together effectively in groups.
And within the Seattle Guitar Circle, we at least have one thing that glues us together despite our impedance mismatches, our sharp edges, our ballistic temperaments, our ultra-sensitivities, and our differing languages: music.
When the music is flowing, all else falls into place and takes care of itself.
* * *
My wish for 2000: let us expand our work together to bring music into our lives.
Happy new year to all who share in this wish.
Saturday January 01
Sitting this morning at Curt's. Frank Sheldon, Ingrid Pape, Bill Rieflin, Stephen Golovnin (spelling corrected,) Curt Golden, and SB. Then new year's day breakfast up the hill with this excellent crew.
Before walking up the hill, I met with Ingrid to review the 8x10 photos from our session in October.
Some fun stuff.
One photo in particular seems to have captured the contradictory-cross-pollinated marriage between twisted-tradition, intense-structure, and relaxed-humor that is the Steve Ball Roadshow. For the next period, this first shot will probably be the SBRS promo shot.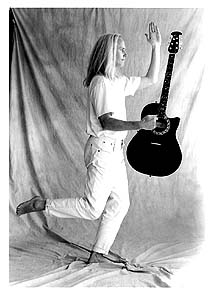 So there is a quick taste of Ingrid's recent work.
Later this spring, I hope to do a new photo session with the whole SBRS team in full instrumentation, with our clothing-potentiometers set on 11.
* * *
During breakfast, our new year's sitting sextet had some in depth conversations about the process and repercussions of diary writing for the web. At one point during breakfast, I mentioned that Dean had suggested last evening the idea that 'journal writing' may be a more accurate description for the process, instead of 'diary writing.'
Hmmm,.... let's see.
jour·nal noun
Abbr. jour., J., j.

1.a. A personal record of occurrences, experiences, and reflections kept on a regular basis; a diary. b. An official record of daily proceedings, as of a legislative body. c. Nautical. A ship's log.
2.Accounting. a. A daybook. b. A book of original entry in a double-entry system, listing all transactions and indicating the accounts to which they belong.
3.A newspaper.
4.A periodical presenting articles on a particular subject: a medical journal.
5.The part of a machine shaft or axle supported by a bearing.

* * *

di·a·ry noun

1.A daily record, especially a personal record of events, experiences, and observations; a journal.
2.A book for use in keeping a personal record, as of experiences.

[Latin diarium, daily allowance, daily journal, from dies, day.]

Excerpted from The American Heritage Dictionary of the English Language, Third Edition Copyright © 1992
Hmmm... seems pretty ambiguous. Perhaps better definitions and distinctions will be discovered over the next few weeks as more and more people begin this process of public 'diary' writing.
* * *
After breakfast, I went over to the Van Buren's for a second breakfast with Bill, Donna, and Kate. Kate gave me a frightening lesson in the power and proliferation of pokemon. Somehow, I've missed out entirely in this bizarre sub-culture virus. I guess this is a result of the absence of children and/or television in my day to day life.
* * *
It was great to spend some quiet personal time with the Van Buren's this morning -- when I first moved to Seattle, the Van Burens and the Rieflins were really the only people I knew in town, and we spent many hours together. Lately, our get-togethers have been mostly holiday-centric and separated by many months. Bill also works for a successful game company called Valve, so his working life, like that of pelota, is quite demanding.
I hope to change this in 2000 and see Bill and Donna on a more regular basis.
Donna is a professional make-up artist who often works at Microsoft Studios (in the same building where I used to work) powdering the faces of Bill Gates and Steve Ballmer before they meet the press. Donna was especially disappointed that she did not get the job to powder Bill for his Larry King Live interview which is happening this afternoon at MS Studios.
Apparently, Larry brought his entire crew to Seattle.
Crud.
A few years ago, when Cyndi Lauper and Jan Pulsford were at MS for their Rifff photo shoot and recording sessions, I had the chance to work with Donna and see her flying high in her craft.
Donna makes people look good on TV. Not always easy, given how basically ugly we all really are.
Cyndi was seven months pregnant at the time, and she was dressed-up in a bikini top and a fluorescent mermaid outfit. Donna made her look like a billion bucks, bulging bare tummy, plastic mermaid suit, and all.
Later this year, I'll pull out and publish some Rifff screen captures and photos from this event.
* * *
After breakfast #2 with the Van Burens, I came home to do some laundry, and Bill Rieflin called to follow up on our breakfast #1 conversation. Some great quotes from Bill R during our afternoon phone call:
"meaning may be nothing which you can find. meaning may be something which is only revealed. This suggests intrinsic meaning"

"I hate honesty - one man's ceiling is another man's floor."

"these diaries are us - they are mirrors. they tell us who we are. we can decide if we like who we are -- we can either keep up the good work, or do something about it. that's me speaking my honest mind. three weeks from now, I might look back and think 'i'm totally wrong.' that's what worries me."

"I don't know if all of human existence is a miracle, but it is completely miraculous."
With some reflection during the afternoon, I can see that Bill and I are taking slightly different approaches in our writing of these 'diaries/journals'
In the process of writing about my life and work, I am shining a colored light on the events of my life, and I am searching for meaning in the shadows that are cast.

Bill is simply reporting events hoping that meaning will be revealed in the spaces.
Two different approaches to diary writing, both subjective, both full of risks, and both, generally, a huge amount of work, and a complete pain in the ass.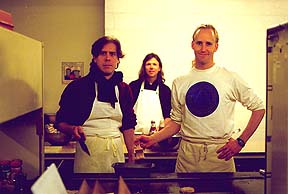 Bill Rieflin, Paul Richards, SB
Cooking up a storm, Feb 1998, Gig Harbor
Photos by Ingrid Pape-Sheldon
* * *
After my mundane afternoon of laundry and diary dialogues, I went to my health club. Exactly eight years ago, on new years day 1992, I also went to my health club, then in Boston, across from the South Street station at the time.
There is something satisfying and righteous about beginning the new year with some serious sweating.
* * *
Attended a musical party this evening at the house of Stephen Golovnin. Steven is a member of the Seattle Beginner's Circle and the Seattle Repertoire Circle. He is also an accomplished kalimba (thumb-piano) player and a masterful marimba builder and player.
Curt Golden, R. Chris Murphy, John Henning, JT Milhoan and I were witness to Steven in his element this evening, pulling pulsating, polyrhythmic music out of thin-air to entrance and entertain the guests at his party.
* * *
Tomorrow: the transition back into work mode begins, after two weeks of 'vacation.' Soon, a new chapter in the life of high-tech pelota is about to begin.
Stay tuned.
Sunday January 02
Reread the 1999 SGC Manifesto document again first thing this morning to get some additional context on my thinking and planning for this next year.
In retrospect, perhaps the best and only useful part of this document was the section at the end which I will copy here for those who don't wish to download +300K worth of word-doc-mud to search for pearls:
A. One Dozen Debilitating Assumptions
1. This is only an experiment.
2. This is only a rehearsal.
3. I am too busy.
4. Someone else will take care of it.
5. Success is optional.
6. Failure is inevitable.
7. Meetings suck.
8. Commerce sucks.
9. I suck.
10. You suck.
11. We suck.
12. This will fail.
Bonus Debilitating Assumption
13. I will be punished for this.

B. Eight Enabling Assumptions
1. This is real.
2. This is necessary.
3. My work has value.
4. I will make this a success.
5. I will be paid for this.
6. I am not alone.
7. I need help.
8. Help is available.
* * *
Today, I spent most of the day getting my 'house' in order. The one thing which I did manage to put off successfully: catching up on the 500 emails I have been ignoring in my MS box. This qualifies as MS work, and that is work for tomorrow.
The work for today: preparing my personal systems for the coming months of 18 hour days that lie just around the corner. For example: I sent out a blanket BCC mail this evening asking my close friends and non-ms business associates to stop using my ms email account for any personal or non-MS business.
I have to begin to build a great wall around my MS work to avoid any potential conflict of interest.
* * *
I went to my health club this afternoon and spent some time considering the role of money in enabling music and/or technology projects to be realized. In music projects, where money is absent, sometimes music can be a form of currency which 'pays the bills.' In most other endeavors, money is the primary enabling currency.
Another way of saying this: there are many things we do in life for 'love' rather than money.
But in a society in which cash is the common denominator currency, substituting 'music' as a form of currency to "pay" people for their contributions only goes so far.
Idea: any project that is worth doing will attract the necessary practical resources (cash and people) to enable it to succeed.
If this is true, then what do we do about projects that do not attract the necessary resources to sustain those doing the work -- do we keep at it until we are totally broke, burnt out, and trust that a miracle will save us in the end? Why do we sometimes continue to pursue projects that are not 'worth doing' according to the idea presented above?
At what point does a lack of public support signal that a project is unviable and not 'worth doing?'
Here is a practical example: Let's say I play in a band. I invest three years of time and energy into rehearsing, playing live, recording, building a repertoire, building performance skills, building a 'brand name' via a 'band name,' building a small buy loyal audience. Within the business structure of the band, there appears to be no sign of a financial break-even anywhere on the horizon. All anyone can see is a mountain of ever-increasing cash and energy expenses to support this band if it is to continue working.
The bills keep coming in, and the cash coming in does not even begin to cover the expenses.
And yet, the band keeps going.
Eventually, if somebody smells that this band has some talent and some legs. Perhaps either a label or management company steps in and absorb the inevitable losses in the early years. But what if this does not happen.
At what point do the band members stop and say, this is not worth doing?
I am trying to imagine a family, a company, an engineering firm, a government, or a legitimate small business that could operate at a loss for years at a time without at least some cash flowing to pay the people who do the work of the business.
A church, perhaps. A school, perhaps. Amazon, perhaps.
But most people, and most business, rightfully demand some form of tangible currency in exchange for their work, services, and attention.
Seems pretty obvious.
Except in the music world, where at times, certain people will work for free, pay to play, starve themselves and their families, go heavily into debt, and/or sacrifice everything they have to participate in the process of music.
No earth shattering conclusions or insights here.
Just a fascination with what musicians will do at times for the expensive privilege of being part of an ongoing musical process.
* * *