Jump to a specific date this week


Tuesday June 20
Wednesday June 21
Thursday June 22
Friday June 23
Saturday June 24 13
Sunday June 25

Previous weeks
---
Monday June 19
A very early morning today, meeting with JudyN at Starbucks in Belltown. Confirmation that I wish to live in Belltown again. Judy is a living gem. Nufff said.
* * *
A rousing and lighthearted SGC rehearsal this evening. Worked on refining the angular waltz in five lunacy that is 'cheeseballs.' This piece rounds out our current repertoire nicely. Another old gem has been haunting me lately, so I began a rearrangement this morning. Need some time to work out parts for the quintet -- this requires some serious homework -- perhaps presenting it post-Maui.
* * *
I kept searching for the right time to call a full team meeting at BTV today to repair a major personal mistake that was made on Friday. The right time never appeared, although it was on my mind all day. An opportunity lost, and tomorrow, I will pay the bill for this via a series of small group meetings.
* * *
Ran into Walter and Ann H this evening on Queen Anne. Walter got to meet and greet DavidS and probe him about esoteric reverb techniques. Our reliable Hero, Walter, will be doing sound this weekend as the Brock Pytel Band (BP, BW, SB, CG, DJ) hits the KSER airwaves on Friday evening from 10-12 midnight on 90.7FM. This is a last minute gig which fell from the sky.
Tight, but right.
A busy week of music ahead. And a crucial week for BootlegTV as well. I'm greatly looking forward to the musical weekend. Then, on Sunday afternoon, I'm off to Palo Alto for a defining meeting on Monday morning, then off to a much needed family reunion (supposedly a vacation) in Maui.
I have not been to Maui since my honeymoon, almost exactly ten years ago. Slight pangs kicking in my heart over this. Time to shut up and go to bed.
* * *
Tuesday June 20
3:24am. Just home from work. What a day. BootlegTV is in the middle of the beginning. We are standing on the edge of a great divide. Some will make it across. Others will not. But those who are strong, persistent, and not carrying too much baggage will cross.
Too far from the beginning to go back. To far from the end to move forward. I've been here before. Many times. No time to let up now. Must press onward. Those drifting along with the stream will be washed away. Those who drive forward, focus, and deliver will be rewarded with the temptation to take it easy.
Painful part of the process. Ouch.
Ug.
Onward and across.
* * *
Wednesday
June 21
Paid the price for a very very late night last night -- pain. But sailed through the day with an alertness and calm that comes from doing the right thing.
Sent out a 'State of the BootlegTV' email today, complete with a major typo in the first paragraph. Ah well - another small but significant cost associated with the pace of this race.
A major breakthrough today. Simple, almost obvious, but a real point of seeing: we are waking up to remain who we are at BootlegTV.
* * *
Meeting at MS this afternoon with the heart of the DM team -- a reunion of sorts. Nice to be in a meeting with BobW, TrudyCB, DavidY, TodorF, AnnetteC, BrianS, GuyW, DavidM, and GeorgeM. This MS team is working on changing the world, one note, one build at a time.
* * *
A quick check in call from RF, somewhere in Italy this afternoon. A potential conflict has been transformed into a learning experience, and the show(s) will go on. But not without a price.
One wrong decision can bring down the ship. So far, we are sailing these treacherous waters with remarkable wind in our sails. Yesterday, the wind was down, but it seems to be picking up again today.
* * *
I was Mucho late for SGC rehearsal this evening following an important affirmation meeting with BillB, GeorgeM, and DavidS. When I arrived, a break was underway, and it was clear that good work had been going on in my absence.
My loss. Thinking back to an exercise that Elizabeth Bennett shared with us back at Red Lion House as I walked into the living room.
When the circle formed after the break, we all plugged in quickly with a rousing verison of SPH, then some quick checks on the new repertoire (Cheeseballs and 49 Notes.) The new repertoire is stunning in that it completely complements our existing repertoire by adding a new dimension to both the emotional range and dynamic of our set.
One of the words of the year for the SGC ("dynamics") seems to be kicking into action.
* * *
Every day is a turning point.
* * *
Thursday
June 22
Finally liquidated some stock this week to send some cash to a close friend in need. The market seems to be bouncing back somewhat (at least my MS stock is slightly less useless...) Also, bought a small used electric guitar amp so that I could rock out with Brock for our upcoming gigs.
Had a blast rocking out tonight with the boys. Between SGC, SBRS, and Brocksongs, the music is flowing in many dimensions this year. I am a happy boy tonight -- looking forward to the next two days of shows.
* * *
I can barely keep my eyes open. I'll take that as a sign, and act on it. Good night.
* * *
F
riday June 23
BootlegTV is humming, gently. Next week it will have to hum without me.
* * *
Played with the Brock Pytel Band on KSER this evening from 10-12:30ish. A fun, electric show -- very loud in a small, small room. I heard that the sound was very good on the radio, although in the room, it was too loud to hear anything. I heard some drums and some mush underneath it. I'm loving playing with this band. A good step forward for Brock. Hope he can sell some CDs. Better yet, hope we can keep this configuration together. These songs deserve the attention of an audience.
Spoke with a caller who was listening during the CD playback after the live section of the show. The world, or at least one microscopic of the world was obviously listening this evening.
Arf arf.
* * *
Brock Pytel Band, Live on KSER.
All Photos by Linda Barth.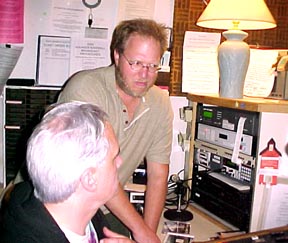 Dawg and Peter Dervin -- our reliable KSER DJ hosts.

Walter Harley, Dean Jensen, and special Guest: MarkB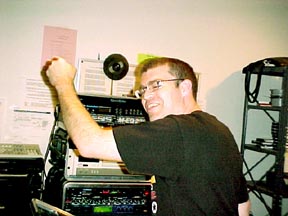 Walter Harley, does it again.

Brock, guitar, vocals, drums - sometimes, all at once.

Second Choice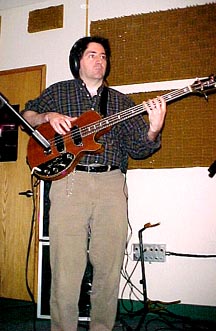 Bob Williams

Curt Golden

Steve Ball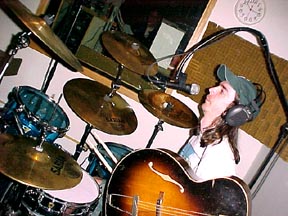 Ninth Inning\

Bob, Curt, Brock, Steve, and Dean
* * *
Saturday June 24
Dinner with DavidS this evening. A final private check-in before my vacation officially begins. But first, SGC gig at Mr. Spots this evening. Judy and Richard Nelson were in the audience -- an audience worth having.
TravisH also poked his head in but did not stay long enough to talk or even say hello...
A good show, overall with some serious high points: Trapiche and the cloud of unknowing had a major life of its own. And Cultivating the Beat (even with a few clamages) was cooking. A nice way to jump off into a week off. Brock's opening set was totally engaging and also a great leap forward -- years of work are beginning to pay off. Quite a nice contrast to the rock set from last night. Must keep going with the Brocksongs band.
* * *
Judy took my phone away. Forced vacation.
Did I mention I suck at vacations? Looking forward to this one.
* * *
Sunday June 25
Over and out.
Not exactly BillR's recommended pre-vacation salutation, but there it is. See you all next week.
* * *