---

Thursday June 28


Back home after a much needed retreat from Seattle, phones, and email. Home just in time for an SB Roadshow tonight at Kismet, 8pm.
Some MP3 highlights from the previous Kismet shows:
Sundress Happiness.mp3 (3.94M)

Back in NYC.mp3 (7.66M)

I am (not?) in Love.mp3 (5.62M)
Turns out that the first SBRS Kismet show was bootleged by TomW!
* * *
Getting back in the saddle with communications today. More tomorrow.
* * *
SBRS at Kismet this evening. A good show, musically and sound wise. Smaller crowd tonight due to great weather outside. But some good listeners in the crowd.
There was a person (named Matt) in the audience tonight who saw the Gauchos at Broadway Performance Hall and the SGC at the King Kat Theatre with the CGT. He is also one of about 100 people around the globe who actually have a Gauchos T-shirt.
The fans are out there. Now, how to get more of them in here?
* * *


Friday June 29


Early morning meetings today beginning with a Seattle Circle board meeting; preparing for the "Road Rally" tomorrow afternoon - we are in search of a facility, and tomorrow some rubber hits the road in increasing the number of eyeballs involved in the search.
Also, a morning catch-up meeting regarding an exciting DGM spin-off project. I dusted off my address book and made a few networking calls to various coasts in an effort to drum up some interest in the project.
* * *
And speaking of drumming up interest, seems as though feisty fire-starter SandraP marched up to the soundman and played Greenthumb before the CGT show last night in Philly. Way to go Sandra!
----- Original Message -----
From: SandraP
To: SB
Sent: Friday, June 29, 2001 9:00 AM
Subject: I'm an arsonist

Ok I did it this time, I hope you don't mind...

At the Tin Angel here in Philly on thursday night, the (perpetually stoned) soundman put on some atrocity for pre-show music. SteveR and I both winced at each other and I got out my CD case, which I carry around in case of emergency. I pulled out a nice green CD and ran it up to him and told him to put it on, "he's a cohort of the band" I said. So he did.

So as the audience came in, there was a fire starting. The majority of them arrived during NYC. I think they got the idea.

The guy didn't want to give me my CD back. I got it, though.

Fire starting can't be bad, right?

hope your retreat brought you some peace.

s
* * *
Brainstorming with LH last night after the Kismet show about how to take a quantum leap in building a new audience in Seattle. LH has some great ideas.
On a similar topic, TravisH observed (in his classic deadpan style) that it is generally only those people without an audience who would stand up to offer advice on how to build an audience.
* * *
Phone calls out the wazoo this morning and a long list of four-hour tech problems to solve at home. Busy-ness (business) seems to be moving from a simmer to boil.
Phoned KD in NYC out of the blue this morning; have not seen or spoken to her in roughly eleven years. But she remembered. We met at the Bottom Line and then again at Washington Square Church a few times in the very early days of LCG projects in NY. Planting a seed for DS and DM who are working to find support for David's latest wild and exciting idea.
* * *
TravisH has (and does) a great job: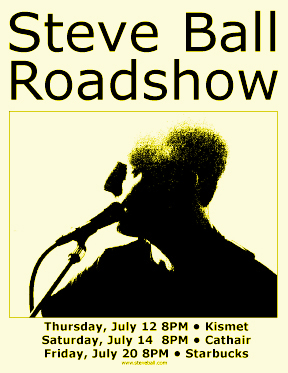 * * *
Request from MattL to check out the Electric Gauchos:
Gunshot Superfly 2.02M MP3

Blue Orb 5.45M MP3
Propaganda about the Electric Gauchos CD:
Featuring Steve Ball, Martin Schwutke, Fernando Kabusacki, Christian de Santis, and Fernando Samelea. This LIVE CD features members of Discipline Global Mobile Recording Artists, Los Gauchos Alemanes. This CD was compiled from LIVE 1997 shows in Buenos Aires and Seattle, featuring new and classic Gauchos and Guitar Craft material arranged for loud electric guitars and drums. Features guests Bill Rieflin, Tobin Buttram, Trey Gunn, and Tony Geballe.
* * *
Evening: dinner with a friend visiting LH. Later: home to sleep early.
10:13pm TravisM just called me on my cell phone. Turns out he is standing outside my window (watching me type this from the street below as he walked to his car from Two Bells!)
Final act of the evening: restraint.
* * *


Saturday June 30


An extremely full day of logistics, organization, facility searching, and performance.
The Seattle Circle Road Rally was well-attended with fourteen people showing up to scour the streets of Seattle for an appropriate facility for our common work. I spent two hours with Jaxie driving up and down the streets of Fremont.
We found three potential spaces, one that was smallish, but it has particularly interesting potential. Another was a huge former-boating-warehouse/workshop with parking and a gymnasium-sized attached workspace. Probably way out of our price range, but we shall see.
* * *
Evening: first SBRS show at Black Lab Gallery, a small-but-spirited art gallery in Ballard. For me, this was the best venue and performance by this SBRS configuration to date. There was a tangible energy and good vibe in the room as soon as we arrived which carried us into a noteworthy performance.
Sonically, this was also the best show in recent memory. Two factors: 1) Walter 2) almost no background noise.
Oh, and LH looked amazing.
At Kismet, there is a consistently loud hum from refrigerators, kitchen and bar equipment and the street. In general, on stage, we compensate for this background noise by playing louder (and harder.) Everything becomes machine-gunfire.
At Black Lab, there were moments where you could hear pins dropping. Co-owner, BrendaS, was also the first person I have ever seen or heard in any coffeehouse situation who was sensitive enough to make transaction and coffee-making sounds at exactly the right time during the show. There was no intrusion from the kitchen what-so-ever. The sounds from the kitchen were in tune with the performance.
The performers took advantage of this environment, and we used the unusually wide dynamic range to, at times, focus on the details of our tone and presentation.
As a singer, how well I sing is directly related to how well I can objectively hear the subtleties of pitch and timbre of the voice that is being heard a few inches away from my mouth. Without this feedback (in a noisy environment, or in an environment where there are no monitors, for example), I have to rely on the pure acoustic sound I hear in my head to determine pitch and timbre. Or worse, in the case where I cannot hear anything with or without monitors, I have simply rely on the muscle memory of my voice.
I have been singing long enough that this is often enough to guarantee at least a passable performance. But if and when we can hear the way we really sound to our audience, this feedback enables a finer quality of intention, tuning, modulation and control.
The other side of this double-edged sword: if our tone or pitch need some homework, this can be a disturbingly eye-opening experience. In this case can no longer blame the poor acoustics of the room for a lousy sounding performance.
An overly-dramatic analogy: lowering the background noise in a performance situation is like having a higher resolution picture with greater color depth and a higher number of frames per second. What is possible in going from a 256 color, 640x480 screen at 10 frames per second to 32-bit colors on a 1024x768 screen at 30 frames per second?
It's the difference between a 1992 PC video game and Tomb Raider at Cinerama.
There is another subtle benefit for the performer that can translate into a much better performance experience for the audience: a great dynamic range frees up my attention to notice to how my part blends or works (or not) with the other parts on stage. This enables a great potential interaction between the human beings on stage, which is often the most interesting and satisfying performance parameter. Are we interacting and playing off of each other? If we cannot hear what we are doing, the the performance has potential to devolve into a rote display of motor memory. Even with 26 people on stage, mechanical motor memory is boring.
The same is exactly true for our guitar tone. Can't hear yourself? Muscle memory takes over.
Turns out that one member of the audience was also at Seattle's Backstage (rock club) eleven years ago for the 1990 RF & LCG show. He bought a copy of "Get Crafty" at that show.
Steve Turnidge was also at that Backstage show, and also bought a copy of Get Crafty that evening. Now, 11 years later, SteveT has spent some time and energy re-mastering tracks from Get Crafty for submission as a possible Collector's Club release.
We listened to the tracks last night after the show on the house PA (Curt was there too...) very nice stuff brewing here. When SteveT is ready, I am going to send a copy of his work to DS and RF for consideration as a Collector's Club release.
After our set, an aspiring musician whom had been attentive all evening in the audience (Nick Ropa) came up and sang a song to close the evening.
Nice voice, and good potential here.
* * *


Sunday July 01


Today is my sweetie's birthday.
Happy birthday!
* * *


home