---
Monday July 02


Back in full blown (net) working mode today. Embracing the mundane. Back-to-back rehearsals this evening.
Interesting discussion/debate going on in BillR's diary today regarding the value of "newness" in music.
* * *
"Whenever I draw a circle, I immediately want to step out of it."

"You must choose between making money and making sense. The two are mutually exclusive."

- Buckminster Fuller
* * *



Wednesday July 04


A productive morning meeting of the Seattle Circle Board. Agenda:
1) Road Rally completion and follow-up tasks
2) budgeting
3) fund-raising
Most of this was discussed in the context of forming measurable goals and finding ways to measure and track the various tasks and progress towards our goals.
For example, Seattle Circle (a non-profit corporation) needs to raise $8,500 in the next three months to get off the ground. The rubber is now hitting the road.
* * *
Quiet celebration of independence at home today. A spectacular view of the Seattle fireworks from a Queen Anne rooftop in the evening.
* * *
This just in:
----- Original Message -----
From: JimG
To: 'SB'
Sent: Wednesday, July 04, 2001 11:16 AM
Subject: get crafty

Hi -

Just a note to say that my copy of Get Crafty which I bought in Portland at the LoCG's show (same tour) has been my almost constant friend for many years - it now lives in my car close to the Kenwood system and when I park I hide the Get Crafty cassette so if they take the stereo they won't get that tape. I often wonder when the tape itself will snap or dissolve into dust and have felt that such an incident would signify the rapid approach of my own death or have at least some type of synchronic meaning in my life. So, if there was a re-master as discussed in your recent diary entry I think this would be on par with a 'second creation' and could have cosmic implications. The other Crafty Guitarist material which I have found moving into this realm is the tape someone sent me of the WMMR show -

By the way, thanks VERY MUCH for the copy of Greenthumb which I am really enjoying.

Jim Gomez

* * *


Thursday July 05


Excellent early morning meeting with SteveE. Surveying the local technology landscape and studying the entrepreneurial process.
Then, another coffee-shop meeting with an acquaintance who is looking to learn something from BTV history.
This, followed by an excellent lunch with my old friend Ronan Chris Murphy who continues to earn his living producing music. He is in town for a couple of weeks producing a band called "Omni" up at Paradise. He seems happy and healthy.
Then, postponed a meeting to pursue an afternoon of homework for a potential project on the horizon.
* * *
Evening: Artwalk, dinner, and "AI" with LH.
There were many things about this film that were artificial, and very few that were all that intelligent. A good film to see if you wish to study the craft of film making.
The film had some amazing moments, but overall, the stiff dialog combined with the technical inconsistencies of the film left me mostly cold and uninspired.
Despite the performance and execution flaws, I admire the vision, ambition and risks the authors took in betting on this film.
It may have worked had it been more Kubrick and less Spielberg.
* * *


Friday July 06


More meetings today. SteveE in the morning, part II from yesterday. JohnL for lunch, catching up on his new job and the local landscape. MarkL in the afternoon, throwing around more wacky start-up possibilities. Juices flowing today.
Despite apparent lack of momentum, there is a distinct sense opportunity in the air.
* * *

----- Original Message -----
From: "TravisH"
To: "CG"
Cc: "SB"
Sent: Friday, July 06, 2001 2:21 PM
Subject: My thoughts exactly:


"...pull the plug on all courses and see if anyone complains. I have had the thought that the 'course paradigm' is not appropriate for us right now, and that the European courses are enough to satisfy the worldwide need." (excerpt from CurtG's diary in response to JonathanB's diary today)

***

1) You can't manufacture necessity (well, maybe you can--by constraining supply)

2) You can't manufacture enthusiasm. YOU can be enthusiastic, and this may foster enthusiasm in others, but you can't will other people into being enthusiastic.

3) Just because someone wants to throw a course doesn't mean that anyone else is obligated to attend or help out.

4) You only find out what 100% of the North American GC Need is by trying something that requires 110%. Contrary to a million football coach motivational speeches, there is no such thing as giving 110%. It sucks to be the person who finds out where the actual edge of the envelope is, but someone has to do it.

5) As far as I know, Peter Gabriel was the guy who started the "stand on the edge of the stage with your back to the audience and then fall backwards trusting that they'll catch you" maneuver, and even he reports that every now and then, no-one wanted to catch him.

TH
* * *
----- Original Message -----
From: LH
To: SB
Sent: Friday, July 06, 2001 3:28 PM
Subject: FW: Honest Zen

For the zen man.

-----Original Message-----
From: JillN
Sent: Friday, July 06, 2001 9:45 AM
To: LH
Subject: Honest Zen
Importance: Low

YOUR DAILY MOMENT OF ZEN

1. Do not walk behind me, for I may not lead. Do not walk ahead of me, for I may not follow. Do not walk beside me, either. Leave me the hell alone.

2. The journey of a thousand miles begins with a broken fan belt and a leaky tire.

3. It's always darkest before dawn. So if you're going to steal your neighbor's newspaper, that's the time to do it.

4. Sex is like air. It's not important unless you aren't getting any.

5. Don't be irreplaceable. If you can't be replaced, you can't be promoted.

6. No one is listening until you make a mistake.

7. Always remember you're unique. Just like everyone else.

8. Never test the depth of the water with both feet.

9. It may be that your sole purpose in life is simply to serve as a warning to others.

10. It is far more impressive when others discover your good qualities without your help.

11. If you think nobody cares if you're alive, try missing a couple of car payments

12. Before you criticize someone, you should walk a mile in their shoes. That way, when you criticize them, you're a mile away and you have their shoes.

13. If at first you don't succeed, skydiving is not for you.

14. Give a man a fish and he will eat for a day. Teach him how to fish, and he will sit in a boat & drink beer all day.

15. If you lend someone $20, and never see that person again, it was probably worth it.

16. Don't squat with your spurs on.

17. If you tell the truth, you don't have to remember anything.

18. If you drink, don't park; accidents cause people.

19. Some days you are the bug, some days you are the windshield.

20. Don't worry, it only seems kinky the first time.

21. Good judgment comes from bad experience, and a lot of that comes from bad judgment.

22. The quickest way to double your money is to fold it in half and put it back in your pocket.

23. Timing has an awful lot to do with the outcome of a rain dance.

24. A closed mouth gathers no foot.

25. Duct tape is like the force. It has a light side & a dark side, and it holds the universe together.

26. There are two theories to arguing with women. Neither one works.

27. Generally speaking, you aren't learning much when your mouth is moving.

28. Experience is something you don't get until just after you need it.

29. Never miss a good chance to shut up.

30. We are born naked, wet, and hungry. Then, things get worse.
* * *
A cheery phone conversation with BillB at the end of the afternoon: comparing notes on the wretched state of start-up and second-stage company fund-raising around the country.
Hope he can come check out SBRS next time he is in town.
* * *


Saturday July 07


Added a new mailing list to sb.com this morning. Emailing notifications out for upcoming shows is becoming more important as the performance calendar continues to get busier.
* * *
SGC Performance Team work day today in Dean's living room. A yeomanly, but productive afternoon with the full septet. In general, we do not have an opportunity to rehearse electrically very often.
Fine tuning and tightening up our act. A great privilege to do this work today. Perhaps it will show in some subtle ways during our 20 minute set tonight at "Let's Drum and Dance"?
* * *
Let's Drum and Dance continues to be one of our most unusual gigs - tonight was no exception.
Our day of work paid off in some not so subtle ways: we rocked. A good beginning with King for a Day - solid backing tracks made great scaffolding for burning solos from Bob and Dean. Then the dynamics in the final section Where it Goes knocked everyone's socks off. The whole room took a breath together. Then, Bloed Spoed, fast and furious, perhaps the best we've ever done it. And into Trapiche just over a reasonable speed at about a bazillion bpm.
A good show. And, we left them wishing for more.
* * *


Sunday July 08

Late morning business planning meeting with CM, LN, and SE at the code condo on capital hill. Then, an afternoon visit to a 24-hour-old baby and her cheery parents. Wow...
Late afternoon birthday BBQ on Mercer Island for TracyP. Nice to meet AnnieR after speaking on the phone. Swapped some recent vacation stories.
Then SGC monthly dinner at Bob and Jaxie's. Excellent food, good conversations, and fun drawing goofy pictures with LH and the irresistible Isabel Sarah Williams. Actually LH is also irresistible.
* * *
The bad news: a sleepless night.
* * *


home


---


Monday July 09


Facing a long list completely glamourless tasks today.
* * *
----- Original Message -----
From: LH
To: SB
Sent: Monday, July 09, 2001 4:28 PM
Subject: FW: 7/9 tidbit

Maybe you want to put this in your diary...

-----Original Message-----
From: JillN
Sent: Monday, July 09, 2001 3:00 PM
To: LH
Subject: 7/9 tidbit
Importance: Low

I have discovered that all human evil comes from this, man's being unable to sit still in a room.

- Blaise Pascal
philosopher and mathematician
(1623-1662)
* * *
Some minor breakthroughs this afternoon. Seattle Circle site has a new mailing list.
Now, I'm off to back to back rehearsals. Many thanks LanceH for more site debugging!
* * *
Good rehearsals this evening.
SBRS continues to develop and expand our repertoire. The Travii are beginning to feel more comfortable contributing arrangements and songs to the list. This is a necessary step forward. Great leaps are occurring in small, perhaps immeasurable steps.
So far, we can now do about a pretty reliable two hour show of songs. Goal: double the number of pieces we have available at our fingertips in the next three months.
Thought: the appropriate unit of time to measure development from working this way (extensive practice and rehearsals integrated into our daily lives, rather than acquisition of technique via intensive retreats) is measured in years.
SGC rehearsal: more solid homework. We know how to play, but it is clear that this group also knows how to work. Refinements tonight on Birds of Fire and Sigh and a Kiss. I think we discovered the definitive arrangement of Sigh and a Kiss this evening.
* * *
On a related note: I'm thinking of inviting three stooges (Curt, Dean, and Bob) to an SBRS rehearsal in the next couple of weeks to act as audience and mirror so that we can fine tune certain pieces within our current SBRS set. These three would make a tough audience. But if we can deliver for this audience, then we can deliver for anyone.
We know some music. We have some shows. In this next phase, we must be courageous in seeking out and accepting constructive feedback so that we can notch up the quality of our performances.
A practical example: during SGC break this evening, Curt made a suggestion about the ending of Orphan that was right on -- I realized a solution while driving home last night: se are missing Nigel's 'rap' in the outro that is on the original Prometheus recording.
* * *


Tuesday July 10


Many photos to process, publish, and share.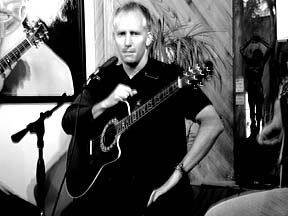 SBRS Black Lab
* * *
This just lifted from TravisH's diary:
"The attitude of the musician on stage--what I refer to as attitudinal technique--is also relevant. At no time are the players of my instruments to be unaware that they are on stage, in the act. There can be no humdrum playing of notes in the belief that because the musicians are 'good', their performance is ipso facto 'masterly'. When a player fails to take full advantage of his role in a visual or acting sense, he is muffling his part--in my terms--as thoroughly as if he bungled every note in the score."

-- Harry Partch


Amen, brother Harry.
* * *


Wednesday July 11


Buried in email this morning. Catching up with many many people as I clean out my bulging inbox(s).
* * *
An old friend, pianist Elizabeth Grigg, is doing some shows in the next couple of months:
Elizabeth Grigg - Living Room Concert VII
Date: Friday, July 13
Time: 8:00
Address: 3807 Lake Washington Blvd. South (It's on the corner of Lake WA Blvd and 46th). Blue house, round manicured bushes.
What to bring: Yourselves, anyone else, food, drink, songs, or stories (all optional in any combination)
RSVP: required only for performers

Elizabeth Grigg CD release party
Date: Saturday August 25
Time: 8:00
Address: 707 23rd Ave. E.

Elizabeth Grigg - Living Room Concert IIX
Date: Saturday Sept 8
Time: 8:00
Address: 707 23rd Ave. E.
Interested in attending these shows? Email me, and I'll get you more information about the shows.
* * *
A good question: what is meaningful work?
mean·ing (mēʹnĭng) noun

1. Something that is conveyed or signified; sense or significance.

2. Something that one wishes to convey, especially by language: The writer's meaning was obscured by his convoluted prose.

3. An interpreted goal, intent, or end: "The central meaning of his pontificate is to restore papal authority" (Conor Cruise O'Brien).

4. Inner significance: "But who can comprehend the meaning of the voice of the city?" (O. Henry).

adjective

1. Full of meaning; expressive.

2. Disposed or intended in a specified manner. Often used in combination: a well-meaning fellow; ill-meaning intentions.

Synonyms: meaning, acceptation, import, sense, significance, signification. The central meaning shared by these nouns is "the idea that is conveyed by something, such as a word, an action, a gesture, or a situation": Synonyms are words that have the same or approximately the same meaning. In one of its acceptations value is a technical term in music. The import of his statement is ambiguous. The term anthropomorphism has only one sense. The significance of a green traffic light is generally understood. Scientists have been unable to determine the signification of most Etruscan inscriptions.

Excerpted from The American Heritage Dictionary of the English Language, Third Edition Copyright © 1992 by Houghton Mifflin Company.

Meaningful work involves more than doing something arbitrary to make money. What is created in the process of the work is as important as the cash that flows from the work.
* * *


Thursday July 12


Socco Stern's 65th birthday celebration this early evening with a large percentage of the Stern/Herrman clan. I was able to catch the first part of the celebration events. Wonderful people with whom to spend a summer evening.
* * *
Then, off to SBRS at Kismet. A difficult show, by most standards, although we executed it well. Mucho background noise. Nonetheless, we are getting better with each show we do. WalterH has us sounding better each time we play there. Tonight, despite the background noise, was a good sounding show.
Our bi-weekly Kismet days, however, may be numbered. Perhaps time to shift to a new bi-weekly venue?
* * *


Friday July 13


Friday evening, dinner and a play with friends of LH, Adam and Angela. Adam works at On the Boards and got us tickets for the opening night of "Resident Alien," a one-man show loosely based upon the life of British author Quentin Crisp.
Some amazing lines in this play. They were selling copies of the script for $10, but I restrained myself given the huge pile of books, magazines, and reading material that is already in the pipeline.
Turns out that Adam is also a drummer. Hmmm.
* * *


Saturday July 14


SBRS at Cat Hair House Concerts this evening in Wallingford. Our host, Shaun, did it again and brought in a wonderful, receptive audience for this benefit concert. We raised close to $300 for the Seattle Circle project, and played well for this excellent audience. Thanks to Shaun and the Cat Hair Concerts audience for contributing to the Seattle Circle cause.
The show was totally acoustic, always a challenge for me as a singer working to project my quiet voice above three guitars into a room bursting at the seams with bodies.
Local hero, DavidLV was there with his Sony DV camcorder and provided a BootlegTV view of the show. He sent me rough outtakes of Greenthumb (9.0M MOV) and Beehive (3.0M MOV) today.
More to follow, I'm sure.
Nice to see EdS, ElizabethP, and DavidLV in the crowd of mostly new people. Their enthusiastic support is contagious.
* * *


Sunday July 15


Rained out of a test of LH's new BBQ this afternoon, so we entertained friends in doors this evening.
* * *
Quick reflections on the house concert last night: a good way to meet a new audience. More thoughts, but no energy now to bring them out for public consumption. The bottom line: we will do more of these kinds of shows.
In general, we must play everywhere and anywhere that has sufficient access to new ears. Playing shows for our friends is useful on occasion, but we must expand our circle to bring in new ears.
* * *
9:46pm Tomorrow, and the week ahead, are packed with meetings and consulting work. This weekend did not feel like a weekend.
I am tired. To bed early.
* * *


home