---
Monday August 30


Clarity coming in on a project that has been brewing in the background for months. What I see is beginning to take shape, but I must focus and collaborate intensely now to give what was previously only a necessary idea, a viable business back-bone.
* * *


Tuesday August 31


Waiting.
* * *


Wednesday August 01


More waiting.
* * *


Thursday August 02


A third day of waiting games. What am I: a waiter?
Unscientific analysis: bio-rhythms all synchronously crashing today.
* * *


Friday August 03


Reaching out for help.
* * *
Late afternoon: an inspiring meeting, demo, and pitch to a kindred spirit from a parallel universe (San Francisco.) Big MUSICAL things are a brewing in Seattle again.
* * *


Saturday August 04


An alpha version of a project I've been working on diligently as a 'hobby' over the past few months with a team of ex-Bootleg developers (including CarmineM and SteveE) has reached a significant milestone.
Red Rover is almost ready for prime time.
* * *
Happy birthday, Mom!
* * *


Sunday August 05

Evening: Arlington Road -- an excellent film with a dark, dark ending. Also watched the alternate ending that was finally cut from the film because it apparently confused the test audiences and distracted from the main message of the film.
* * *
Testing my own alternate ending recently. The test audience, in this case, is also confused.
* * *


home


---


Monday August 06

An unrecognized, unacknowledged, and completely un-celebrated anniversary of sorts. Today, actions speak the only words that really matter.
* * *
8am - Seattle Circle board meeting at Uptown Espresso. We are still short in our cash needs to cover the new facility start-up costs. What to do?
Many corporations, including Microsoft and Getty Images (I believe,) have 'matching donation' programs where they will match individual contributions to charitable organizations. Now would be a good time to take advantage of these programs.
* * *
11:15pm - just home from back-to-back rehearsals and my back hurts. SBRS was productive -- great to have TravisM back from a week in Portland. We solidified our new arrangement of Running Up That Hill, and then played a set for a welcome visitor who came to check us out in the flesh.
SGC at Bob's; Jax is on the east coast and Curt is a the KC/Tool show. The SGC quintet began with a warm-up of the solos section of Sigh and a Kiss with each player taking turns on the D-dorian, then D-harmonic minor solo.
Interesting to practice solos a form of warm-up.
* * *
Earlier in the day: a wonderful afternoon spent with a light-brother comparing notes on graceful recovery in the face of apparent disaster, balancing huge potential with short term practicalities, and logistical start-up idiot-checking.
Some time is spent. Some is well-spent. This was time well-invested.
Happy to learn that my recent phone call to KarenD in NYC has precipitated some good news for the Vicar.
* * *
Late evening: considering major changes in every domain.
* * *


Tuesday August 07


Initiating a period of simultaneous expansion and contraction: getting up to speed on parallel paths while chopping away the unnecessary.
Many observations, but none for public consumption.
* * *
CharlieH came through for the KC/Tool show. Pre-show: dinner with excellent people. Post-show: a brief family reunion of sorts.
* * *


Wednesday August 08


A productive day, all around. But my fuse is short and the pressure is on. Spent part of the early morning meeting with a dear and reliable friend. At least one extremely significant insight during our conversation.
* * *
Many reflections throughout the day on the KC/Tool show and after-show events last night. None worth sharing. Right now, I couldn't handle the spam that would follow.
* * *
Highlight of my day: running into CurtG and his friend Brian at Uptown Espresso.
Apparently Brian saw the League show at the Paradise in Boston 12 years ago... When I first shook Brian's hand, i saw that he had a red circular tattoo on the inside of this right arm, like a rising sun. I joked (mostly to Curt) that at first glance, his tattoo looked like the Discipline symbol... Brian then smiled and turned over his left arm and revealed this: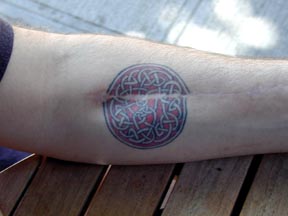 He told the story of how Steven Tyler (yes, Aerosmith) for whom he used to work, dragged him into a tattoo shop many years ago and insisted he get this tattoo.
Really!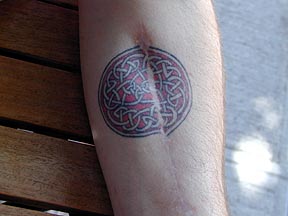 Turns out that Brian is more than a friend and a fan. He also put his money where his mouth was. Thanks Brian!
* * *
A low energy (mine) SBRS rehearsal this evening in preparation for our show at BitStar Cafe tomorrow evening. A good run-through, musically, however. Running Up that Hill continues to shake my tree and bring me joy. It is a great song, we have a stunning arrangement, and this piece has rich, indescribable meaning for me right now.
Running Up That Hill

It doesn't hurt me.
Do you want to feel how it feels?
Do you want to know know
that it doesn't hurt me?
Do you want to hear
about the deal that I'm making?
You, it's you and me.

And if I only could, I'd make a deal with God,
And I'd get him to swap our places,
Be running up that road,
Be running up that hill,
Be running up that building.
Say, if I only could, oh...

You don't want to hurt me,
But see how deep the bullet lies.
Unaware I'm tearing you asunder.
Ooh, there is thunder in our hearts.
Is there so much hate for the ones we love?
Tell me, we both matter, don't we?
You, it's you and me.
It's you and me, won't be unhappy.

And if I only could, I'd make a deal with God,
And I'd get him to swap our places,
Be running up that road,
Be running up that hill,
Be running up that building,
Say, if I only could, oh...

You, It's you and me,
It's you and me won't be unhappy.

C'mon, baby, C'mon darling,
Let me steal this moment from you now.
C'mon, angel, c'mon, c'mon, darling,
Let's exchange the experience.

And if I only could, I'd make a deal with God,
And I'd get him to swap our places,
Be running up that road,
Be running up that hill,
With no problems.

-- Kate Bush
* * *
Then SGC quartet at Dean's. I was late. Needed to make a phone call to get my feet on the ground. When I came in, it appeared that Curt, Dean, and Derek had been working on some Fracture derivative exercises. We shifted gears and ran through and tightened some of the more challenging pieces: Screaming Purple Hues, Vulcanization, and Cultivating the Beat.
Where is the rug?
* * *
----- Original Message -----
From: "DeanJ"
To: SB
Sent: Thursday, August 09, 2001 8:51 AM
Subject: the rug


Perhaps my finest moment as a composer for Loud Shirts (can I really say that?) was a tune called "What's with the rug?" While John Novak immediately took "the rug" to be a bad toupee, no no, I said, "What's with the rug?!" is what you say when you discover that it's being ripped out from under you: that instant you realize what's happening, before you fall.

Yikes.

* * *
"Were we to love none who had imperfections, this would be a desert for our love. All we can do is to make the best of our friends; love and cherish what is good in them, and keep out of the way of what is bad: but no more think of rejecting them for it than of throwing away a piece of music for a flat passage or two."

-- Thomas Jefferson

* * *

"To spare oneself from grief at all costs can be achieved only at the price of total detachment, which excludes the ability to experience happiness."

-- Erich Fromm

* * *

"The very purpose of existence is to reconcile
the glowing opinion we hold of ourselves with the appalling things that other people think about us."

-- Quentin Crisp

* * *

"Many promising reconciliations have broken down because while both parties come prepared to forgive, neither party come prepared to be forgiven."

--Charles Williams
* * *
Small world: Ran into Dean this afternoon while delivering a package to FedEx today. Coffee at Cafe Ladro.
* * *
Just home from SBRS at the BitStar Cafe on Capitol Hill. Turns out that this was a show worth doing, despite a shaky beginning: the booking agent who booked the gig had been let go recently! Took a few minutes to straighten it out with Scott Kennedy, the owner, who also happens to be running for mayor.
Now, he will get my vote.
Musically, we were on tonight. The first set was full of friendly familiar faces: Chris and Kim, PeterK, DavidLV, were there to compare the new to the old. We debuted the aforementioned Kate Bush song, played it twice actually: felt good.
DavidLV brought his DVCam again so there may be some video available soon -- The best part of the evening: during the second set we had a house full of new smiling faces who had come by because they live next store - they stayed through to the end, listening intently, enjoying the show.
Some small satisfaction, at least in one domain today.
Other than this brief joy, I am filled with sadness, and I face a very busy day tomorrow.
To bed.
* * *
Inspirational listening this morning:
DIY
Don't tell me what I will do, 'cos I won't.
Don't tell me to believe in you, 'cos I don't.
Be on your guard, better hostile and hard,
don't risk affection;
Like flesh to the bone in the no-go zone,
You're still looking for the Resurrection.
Come up to me with your "What did you say?"
And I'll tell you, straight in the eye:

D-I-Y

Everyone wants to be what he not, what he not.
Nobody happy with what he got, what he got.
You function like a dummy with a new ventriloquist,
Do you say nothing yourself?
Hanging like a thriller on the final twist,
Is it true you're getting stuck on the shelf?
Come up to me with your "What did you say?"
And I'll tell you, straight in the eye:

D-I-Y - do it yourself

When things get so big, I don't trust them at all,
You want some control,
you've got to keep it small.

-- Peter Gabriel
From my fave gabe album produced by RF. For me, it does not get any better than this.
* * *
Ariel
Where the bee sucks, there suck I:
In a cowslip's bell I lie;
There I couch when owls do cry.
On the bat's back I do fly
After summer merrily:
Merrily, merrily shall I live now
Under the blossom that hangs on the bough.

Prospero
Why, that's my dainty Ariel! I shall miss thee;
But yet thou shalt have freedom;--so, so, so.--
To the king's ship, invisible as thou art:
There shalt thou find the mariners asleep
Under the hatches; the master and the boatswain 
Being awake, enforce them to this place,
And presently, I prithee.

* * *
Two useful meetings of the applied inventor's circle team today. One home-run and one base hit.
* * *
Evening: resolution.
* * *

Saturday August 11


Slept well, first time all week, perhaps all month. And yes, I can hear you now.
Getting some perspective today, and counting my blessings. The total reset from BootlegTV has not yet run it's course. While there are excitingly vast possibilities both on the horizon and at my fingertips, the toll on my psyche has been and remains a challenge.
Sitting this morning with ChadB, DougB, TobinB, Travii, and Curt. Then breakfast with Tobin and Travii including Vicar lore and some esoteric music history review.
Following breakfast, SBRS rehearsal chez Travii, continuing to develop the next set of hits. We have a fun one in the works.
Afternoon: Planet of the Apes. Barely worth seeing. As they say in the barely-worth-seeing-movie-business: "great costumes."
* * *
Early evening: a quiet night of work and writing in the studio.
Later: Curt, Tobin, and TravisM came over at 10pm for a couple of hours of poker and music.
* * *


Sunday August 12


Up early this morning. Out early to a (Bikram) Yoga class in West Seattle. For some reason, focusing on the image of fighting a 'dark prince' gives me energy to push myself and endure the intense heat and pain of limbs that are in need of stretching. No, this 'prince' is not satan, but he I'm not particularly thrilled about his image showing up (again) in my nightmares.
* * *
Excitement of the day: BootlegTV hero, DavidLV has come through with some video highlights from the recent BitStar Cafe SBRS show:
Another SBRS rehearsal this afternoon.
* * *
Evening listening:
because I told you so

If I gave you the sky
if I laid down my life
would you believe me then?

If I promised to change
if I carried the blame
would you believe me then?

Could you see it like me
and believe what I see
could you listen, and remember that I love you
Only, because I told you, because I told you so

If you told me you lied
but I stayed true and tried
would you believe me then?

And if your beauty was gone
but my love lingered on
would you believe me then?

Could you see it like me
and believe what I see
could you listen and remember that I love you
Only, because I told you, because I told you so

You take the wheel for now
I'm too tired to drive this one home anyhow
for now

And when you mention my name
let this one thing remain,
my love
believe me now

-- Jonatha Brooke (from 10 cent wings)
* * *
gravity, pulling down.
* * *


home