---
Monday November 05


Evening: SGC rehearsal at HQ.
Great debates during our break regarding our ability to take on an ambitious piece of work in a short timeframe. Interesting to observe our individually orthogonal modes of working within the members of this group.
Here is my subjective interpretation. Of course, as usual, it is certifiably guaranteed to get me into trouble.
The conflict was this: Derek had an insight regarding a challenge and he presented it as a means to alter the way we operate as a group. His presentation created some heat because, for some, one of the criteria of the challenge was neither rational or practical. Whether this 'criteria' was necessary is open to debate. The challenge contained an apparently arbitrary contradiction that threatened our ability to work on a new circulation that we are uniformly excited about learning. If we could not learn and perform the piece in a (relatively) short time, the instruction was that we should 'never play the piece again.'
Based upon my own understanding and trust, I supported both Derek's insight and delivery of the challenge. I trust that his insight and its presentation was 'true' and coming from the right place.
After 15 years of 'abandoning' excellent repertoire that has served a purpose for a particular time and place, I find that I am not so 'attached' to any particular piece of music that I cannot let it go at the drop of a hat if the situation so demands.
There is a universe full of music at our fingertips, 'constantly and readily available', to use classic GC poetry. The details of the specific notes or repertoire or sets we play barely matter to me, as long as it is a) musical, and b) appropriate to the audience and players.
This new piece clearly feeds a hunger in this group for a harmonically and melodically 'meaty' challenge.
As a group, we said 'yes' to the challenge, BTW.
* * *


Tuesday November 06


A long day of meetings followed by a night off. Generally a wonderful evening.
* * *


Wednesday November 07


SBRS rehearsal #1 at HQ. Tonight we watered and transformed TravisM's new seed into an orchestrated song. Melody and lyrics are hovering in the air -- certain pieces are so 'pregnant' with possibilities that they seem to write themselves. This is one such piece.
There is such joy hidden within the process of bringing music to life. Actually, its not 'hidden' at all.
Here it is.
* * *


Thursday November 08


SBRS rehearsal #2 at HQ. New music in the air. Tested out some new (placeholder) lyrics for the new collaboration. Writing with this team is a breeze and a joy. The new song is killer.
We also visited a surprise instrumental cover - no actually, it's not instrumental - it has vocals: one word, sung in unison pedal on a low D. Some of you may recognize it at Black Lab next weekend. Could be a 'sing-a-long.'
I can almost feel a smoldering rocket falling slowly out of the sky as I think about it.
* * *
TravisH also has a new (old) song that seems to be rearing its head. Sounds like a hit so far.
* * *
Heard some bad news about a friend who lost a job. Can't blame the frigging fragile tech economy for this one, but sure would be nice.
* * *


Friday November 09


Finally putting WinXP Pro on my home machine as mandated by borg policy. An all morning task, to be sure.
* * *


Saturday November 10


8am Calisthenics at HQ with four hard-core guys playing the Airport Exercise at 80 bpm for 40 minutes followed by five minutes of work on something we don't do very well: play sixteenth notes at 120 bpm.
A restful sitting disturbed only by my eyes stinging slightly from too little sleep.
After sitting, an SC board meeting in the Kitchen carried out while making and eating breakfast. Perhaps not the most focused setting for this meeting, but also a nice change from our usual ways of meeting. Many dangerous, controversial, and gravely important items were discussed. Betcha wish you were there, eh? You could have been.
Why weren't you?
Really. At least one important thing was discussed: a financial report regarding the recent Weekend Workshop, and an extended discussion on what to do next.
Also, some action items that will require some action on certain items.
* * *
Brock, Heather, and Clement Pytel visited the house briefly for a short hell-o right before I had to bolt to make a prior engagement. Great to see them - Clem is talking and making great sense.
The rest of my weekend: continued investment in the development of my home life.
* * *


Sunday November 11

Day off.
Well, mostly. It began with an hour long early morning meeting at MS to prepare for a last minute all day meeting tomorrow.
* * *


home


---


Monday November 12


SGC rehearsal at HQ. Primary focus on our repertoire for next weekend. Reading in the dark. Physically, and metaphorically. Good work for my ultra-lame reading chops. Jumping between #'s and b's from measure to measure is are the hardest part.
That and figuring out which string to use for wild intervals and octave plus jumps. Does my individual part sound good on it's own? Depends how it is played. The notes them selves are not particularly interesting outside of the context of the rest of the melody.
* * *


Tuesday November 13


Rain.
* * *


Wednesday November 14


SBRS rehearsal at HQ. Special visitors (TomR and CurtG) toward the end, and we worked on a new song in front of an audience. Always an interesting process to observe someone one observing the bugs and struggles of the birth of a new song.
down
where are all the others?
mothers, fathers?
missing brothers?
where am I?

what are all these whispers ?
bleeding blisters?
crying sisters?
where are you?

sell me out
cash me in
pick me up
lay me down

down in the basement
found a replacement
up in the ceiling
Mary is kneeling down

who hired all these talk-show scholars
lending spending rubber dollars
in my name?

who inspired this royal highness
spineless blindness clueless genius
that we blame?

show it off
try it on
blow it off
put it down

down in the basement
found a replacement
up in the ceiling
Mary is kneeling down

* * *
After rehearsal, LH dropped in at HQ to meet Tom and then the four of us laughed out loud for 45 minutes on Curt's living room floor.
Great to have a hell boy in the city for a few days.
* * *
12:48pm - Up late memorizing 84 bars of (apparently disconnected and chromatically fragmented) notes -- disconnected until you hear the other three notes that fill in the 6-notes-per-bar-with-4-circulators accompaniment.
Memorized? Very close. Able to read it now, but would be nice to blow this out without a score. Just within reach right now.
Arbitrary clause or not, Derek's challenge is certainly bringing me into a "new" way of working. Actually, scratch that - for me, this is an old way of working. Duh. No wonder I supported Derek in this plan.
Will I regret this during my 10am presentation tomorrow for a pile of fatty brains at MS Research? We shall see.
* * *


Thursday November 15

Happy Birthday, Katie.
* * *
SBRS rehearsal at HQ - more preparation on the new pieces for Saturday. Minor setback for Black Lab gallery turns out to be a major opportunity to have a house concert at HQ on Saturday.
I have a few more words to memorize, but I'm pretty close.
* * *
SGC rehearsal at B&J. Very tired and grumpy by the end of the evening. Prelude is coming along. The homework I did last night is paying off. I just may have this this memorized by tonight, certainly by Saturday night for the show.
* * *


Friday November 16


First Seattle Circle Soiree at HQ this evening. A marvelous event: excellent food, wonderful music, and great people. Heard the rumor: something is going on in Seattle.
Wish you were here.
* * *


Saturday November 17


8am Calisthenics, the hardcore crew this morning: myself, CurtG, DouglasB, GregS, TomR. Variations on the third primary on two strings, up and down the neck. Good work.
Then, a powerful sitting followed by breakfast of Hellboy Champions at Vera's.
Tonight: the first real House Concert at HQ. 8pm. Be there or be square.
* * *
Wow -- what a surprise at the SC Open Stage House Concert -- an audience bursting at the seams of our little space. Some incredible and honorable performances for a very generous crowd.
High points for me:
Casting Shadows first and third pieces: wonderful writing and honorable and musical performance by my new favorite up-and-definitely-coming trio.
Andre's touching second public performance ever.
TomR's first piece with guest Hellboy, CurtG was un-frigging-believable. What a gift his visit has been.
DebraG's JoniM's Wish I Had a River dedication, a stunning and graceful recovery from the way-too-long-exercise that preceded her set.
TaylorS, bravely breaking new ground in instrumentation.
Four Cheeses: on their way to great stuff.
RV - and not a moment too soon; can't go wrong with dueling master slides by Curt and Dean, Earth (Jax), Wind (Chris), and Fire (Bob) horns, and a funk-ass bass solo by Derek (Baily) Filipo.
SGC Prelude: mission possible.
King for a Day - have Bob and Dean ever burned as brightly as they did this evening?? BRAVO!
All well done. Congratulations to all of the performers for taking on this challenge and honorably presenting your work.
* * *
Surprisingly, Pelota has many thoughts and ideas brewing based upon this event. We have crossed a line into a new level of public presentation in our own venue.
<pelota>
Clearly, we have some logistics to address before we do this again:
1. Seating: no invited or paying audience should have to suffer for 2.5 hours on a hard wooden floor or flimsy wooden stools. There was noticeable back pain and discomfort growing in the audience, even early on in the show.
2. Dress rehearsal: if we are playing for the public, the entire show needs a logistics dress rehearsal and run-through to iron out blocking, timing, flow, and inappropriate song sequencing and selection.
3. Flexibility: we should not be afraid to change the show sequence, add or cut material in the moment if the situation so demands.
4. Length: more than two hours of music is too long. More than 50-60 minutes without a break is too long, especially with the above mentioned seating issues.
5. Auditions: material should be tested/auditioned for the MC/event host(s) before a blind or cold presentation to the public of new material.
6. The Skirt: The place to audition this material in a safe place? The Skirt -- the Skirt was the name of our our own former internal monthly "open mic" for SC teams to present and test new material for each other, away from the public. The Skirt is a chance to practice performance in front of a sympathetic audience.
7. Monthly House Concerts, (perhaps on the last Saturday of every month?) - featuring 2-3 rehearsed groups who are ready for prime time each presenting their strongest 20-40 minutes of music for the general public. Those with less experience, but who are ready, might also present a short piece or two as support.
8. Signage: already underway with wonderful designs in the works by FrankS and the sign team. So, what are the blocking issues to get this done? Apparently last evening during the Soiree, there were neighbors walking by wondering what was going on inside.
</pelota>
* * *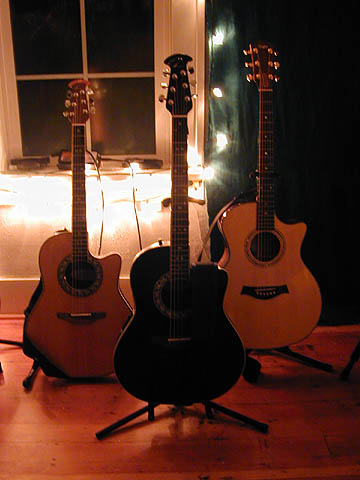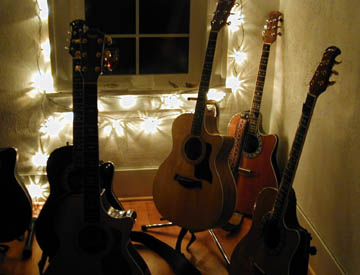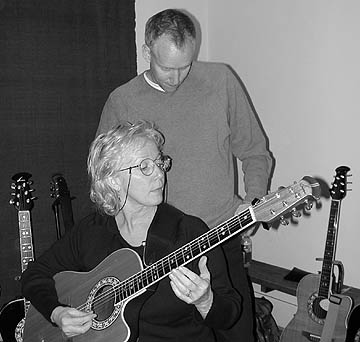 Stevie Ray Juan and Juanita Reunion
* * *
Hats off to TravisH for taking on and making the first and second Seattle Circle Open Stage happen. Looking forward to more of these.
* * *
LisaH was a remarkably good sport to participate in the SC Soiree last night and the long show this evening. Plus she looked really great (hot!) Too bad she did not perform her killer Elvis impression this evening. Could have been a useful addition to the show at a couple of key moments.
* * *


home