---
Monday December 31


Small but potent gathering chez LH this evening.
* * *


Tuesday January 01


Happy New Year.
* * *


Wednesday January 02

Back from Vacation. Very happy to be home again and looking forward to this new year.
I did keep a private diary over the past two weeks, but the contents are far too personal for any form of (even edited) public posting. Many of my 'struggles' of this past year have been so personal that posting details here would be pathetically uninteresting, at best, and a massive violation, at worst.
* * *


Thursday January 03


Two rehearsals this evening: SBRS 6-8 at HQ and SGC 8:30-10:30 at Bob and Jaxies. Both rehearsals had the same quality: rusty but refreshing. And good to be back in a room playing music with these people. The energy of a new beginning is enough to get us off the ground, but the bad news: we are further behind than where we left off.
For me, two looming questions for both of these groups:
1. what should we do this year?
2. what should we do differently this year?
A possibility of a SGC show with the California Guitar Trio at the end of the month appeared briefly, vanished, and re-appeared.
During the recent break, my hyperactive Pelota-brain has been brewing some recording ideas in the back corner for both of these groups.
What if the SGC were to record 30-50 minutes of music without the restrictions of using Ovations? What might we record together? What instruments might we use? How might it sound? What if we spent two months recording instead of rehearsing? What if there were no restrictions on instruments or arrangements. What would we do together if we were to use the recording studio as a canvas for painting some new music together?
One way I've been thinking about it: what would the soundtrack to our overlapping musical lives sound like?
If we went in without expectation and with the understanding that the whole process could be abandoned or discarded at any time, then perhaps we might discover something we cannot now foresee? And what if we don't like the result? So what -- recording can be fun and energizing even if the result is not something we are happy with. Even the 'carrot' of recording might enable us to work differently and stretch some different muscles than we are currently using.
Then, what to do with completed recordings is another question, and perhaps it is not even a relevant going in. Depends on what we come up with?
With Morpheus and MP3 distribution essentially, eventually, bringing music pressed onto plastic CDs to the edge of immediate obsolescence, why make CDs unless there is an (audience financed) demand? In the absence of a demand from an audience, is there a demand from the musicians?
* * *
I'm sheltering another rather radical idea regarding SGC for the next year until the time is right. When is the next group dinner?
* * *
Received a wonderful gift from CurtG after SGC rehearsal this evening -- the antidote to Blake's "Marriage of Heaven and Hell" that I have quoted here a few times.
"You cannot take all luggage with you on all journeys; on one journey even your right hand and your right eye may be among the things you have to leave behind. We are not living the a world where all roads are radii of a circle and where all, if followed long enough, will therefore draw gradually nearer and finally meet at the centre; rather in a world where every road, after a few miles, forks into two, and each of those into two again, and at each fork you must make a decision. Even on the biological level life is not like a river but like a tree. it does not move towards unity but away from it and the creatures grow further apart as they increase in perfection. Good, as it ripens, becomes continually more different not only from evil but from other good."

- C.S. Lewis, The Great Divorce
Thanks Curt!
* * *


Friday January 04


A productive day at work followed by a night out with Lisa's closest work buddies. Good people, good food, good conversation.
Left a phone message for PaulyR regarding a proposed CGT House Concert at SC Headquarters with the SGC. No response yet.
* * *


Saturday January 05


Read an obituary for Rosemary Brown in last months Economist recently. Rosemary was supposedly a 'musical psychic' who could 'channel' Beethoven, Liszt, Chopin and many other master composers. She supposedly took dictation from Rachmaninov, Mozart, and many others. Leonard Bernstein heard her Rachmaninov transcription apparently made an offer to 'buy' it from her. Sounds like she had something. From the obituary:
"On the other hand, the music seemed too good to have been composed by an amateur, however enthusiastic. The compositions suggested a professional hand. Nor were the pieces pastiches. One critic noted the 'advanced harmonies' of a Liszt piece. A Hungarian writer was particularly please that his country's most celebrated composer was still in form. Mrs. Brown was not perturbed by the controversy. She said that her composer friends were simply demonstrating that there was life after death. In her book 'Unfinished Symphonies' she sought to explain the mysterious nature of music by quoting a message she said she had received from Chopin:

Great music is something that is really born in the spirit and is reproduced, perhaps very badly, in your world.

However, psychiatrists who were asked for an opinion about Mrs. Brown's music said that it had come from her own mind. They constructed a plausible picture of a talented woman who, through childhood poverty, had been deprived of a musical career and had returned to music after her husband had died. Her psychic experiences they ascribed to hysteria, using the term in its medical sense, of dissociation."
* * *
Decided early in afternoon to postpone an evening social event until the right couples are all available in the same time time and place.
* * *
Received a cheery New Year's phone message today from somewhere in the U.K.
I am still not back up to speed on communications with those who have been trying to reach me over the break. I am looking to next week as the time for a bold return to active public social and business life.
* * *
Up early to get a jump on some web, email, and diary catch-up.
* * *
Massive shake up of the month: I need to move by the end of the month. Made it official yesterday in the office of my building. Now, where to move? As if my life were not complicated enough already...
What do I have that I really need? What is all of this stuff in my life?
* * *
End of day: I know where I will be living for the next six months. Another leap of faith.
* * *


home


---


Monday January 07


No SBRS rehearsal this evening; instead, I signed paperwork on the place I'll be moving at the end of the month.
Then, an energetic SGC rehearsal at HQ with an inspiring background provided by Elisabeth, Taylor, and Chad working in the other room. Nice to hear Hope and Vroom pouring out of the woodwork next door.
Some good listening going on during rehearsal, particularly during the run through of Cultivating the Beat. How to make something fresh: don't play it for awhile. The first time, it is fresh. The second time, the execution flaws become apparent again. The third time, ouch,... look at how much work we really have to do.
So what to do next with this group? A few brainstorms with Dean before we parted, but we need a project to focus our work for the next period.
* * *


Tuesday January 08


Fifteen years ago today, Curt Golden, Bill Rieflin, Trey Gunn, Robert Fripp and I were in Queen Elizabeth Hall -- together in the same room for the first time.
* * *
Back to post-holiday very busy. Missed some calls today that I need to return tomorrow. One in particular from an old Bootleg friend who is in town briefly. 11:13 now, much too tired to be coherent.
* * *
Yes, it was January 8th, 8pm and the show was sold out -- First night of the LCG England/Israel tour of 1987. Seems like yesterday. I kept some pretty intense diaries (on paper) in those days, most of it unreadable and self-absorbed. Who was that kid? Where is he now?
Not much has changed, n'est pas?
* * *
A scan from my (then analog) Journal of January 8th, 1987: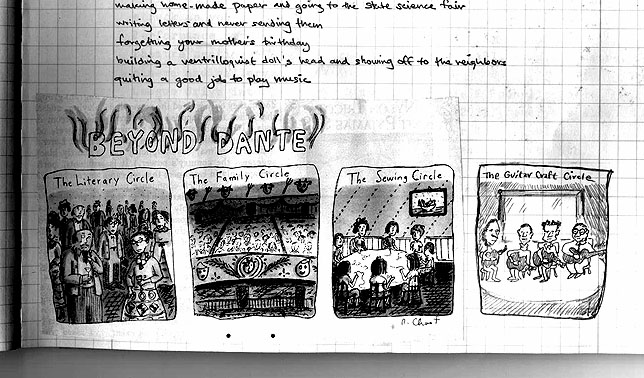 I had cut out a New Yorker cartoon (by my still favorite cartoonist in the known galaxy, Roz Chast) and added my own last panel. That would be Curt, Trey, Claude, and Robert, left to right, sitting in the 'ballroom' at Red Lion House.
* * *
Thinking about a friend's upcoming Advent-ure.
ad·vent

(ădʹvĕntī) noun

1. The coming or arrival, especially of something extremely important: the advent of the computer.

2. Also Advent a. The period beginning on the fourth Sunday before Christmas, observed by many Christians as a season of prayer, fasting, and penitence in preparation for Christmas. b. Theology. The coming of Jesus at the Incarnation. c. Theology. See Second Coming.

[Middle English, the Advent season, from Old French, from Latin adventus, arrival from past participle of advenīre, to come to : ad-, ad- + venīre, to come.]
* * *


Wednesday January 09


An extremely productive day at work -- preparing for a major presentation next Monday. Also met someone who is traveling to Argentina next week. Although I miss Argentina, and my close friends there, I am thankful that I am still local and immobile.
* * *
Dinner in Belltown with CurtG and former-BTV Producer KevinM (who is visiting from NYC.) Then Curt and I came back to my place for dessert and some overdue catching up.
Also: received a well-timed mail from another NY-based former-BTV personality today, BillB.
* * *
Finally returned many phone calls from last week and the weekend. Need to be up verrry early tomorrow for a long, busy day of pre-presentation preparations.
* * *


Thursday January 10

Back to back rehearsals. When I walked into SC HQ I was extremely surprised to hear TravisH and TravisM playing together, and TravisH was singing a song. A wonderful song at that, performed well, sounded great. No more hiding behind the "I don't sing" (or was that a "you don't pay me enough to sing"?) excuse. We began to arrange the song with a third voice and guitar (mine) and by the end, we had a killer song with an uplifting "Maggie May" mandolin ending. Then we shifted gears and continued work on TravisM's new song, also a winner if we continue to let it settle into the song it is becoming. A very musical rehearsal.
Then, into the car and over to B&Js for SGC rehearsal. The original quintet this evening. We began by continuing to explore the nuts and bolts of a symmetrical exercise I've been working with. One variation of this exercise includes a difficult section where one finer anchors while the other three fly around in a symmetrical twister. We have so much work to do, right at our fingertips. We also visited and drilled into the new ending for Bicycling.
The rest of the evening, we focused on the Shostakovich circulation and discovered a simple means of tightening some of the more difficult phrases. Again, a very musical evening. Missed Derek (lost in start-up demo land) and Chris (ill.)
* * *


Friday January 11


Breakfast meeting with GeorgeM. Great to catch up with my friend and former Biz Dev BTV VP. Sounds like George has some exciting and challenging new business developing.
* * *
As I look around the landscape of my acquaintances, friends, co-workers, and relationships, I have daily interactions with an extremely diverse set of people who would probably not do very well in the same room together.
I am amazed again at how much life after high school continues to resemble life in and before high school when it comes to the social retardation surrounding cliques, personality conflicts, and rude and futile interactions between characters who just don't like (or understand) each other. Columbine was perhaps an extreme and violent partial result of a classic personality conflict (between nerds and jocks?) but our day-to-day exclusion, bad-mouthing, and whole-sale, bi-directional, arrogant write-off of those creeps/jocks/nerds/dweebs/assholes/cheerleaders/fill-in-the-anti-euphemism-for-the-personality-type-or-race-that-most-annoys-you across town is part of the same family of violence that inspired the Columbine incident.
You may recognize the sentiment: He sucks, what an asshole. He oppresses me, he annoy me, he is not from my tribe. And those shoes! How embarrassing.
The interesting thing: he is thinking the same thing about me.
* * *
A day of milestones at work. Demos are ready to fly for a big presentation on Monday, PPT is also now 99% ready to roll. Now if only my laptop audio were working... (HW problem?) May need to do some homework this weekend to fine tune what may be the largest group presentation I've done at MS since 1999.
* * *
Friday night: becoming painfully aware of how much work I have to do to prepare to move at the end of the month.
* * *


Saturday January 12


SC board meeting this afternoon. Mostly focused with good results: actions to follow that will up the ante for the next seven months. Feeling hope again.
* * *
Saw Vanilla Sky this evening. I am a Cameron Crowe fan, and this film confirms my growing fandom. Need to see it again to really grok the subtleties. Feels like a sister to Magnolia in terms of depth, surprises, and complexity.
I'm not sure I 'enjoyed' the film, but I highly recommend it.
I've had two brief encounters with Cameron (in addition to seeing and appreciating his films): one at a Las Vegas party at Ann Wilson's house a couple of years ago, and one (via mail) when he ordered a MLLord tape from me many years ago. Hope to have another encounter with him someday.
* * *


Sunday January 13

Noticed something at Barnes and Noble today in the soundtrack CD listening station.
There were three current movie soundtrack CDs next to each other in one listen station that each feature intriguing pictures of introspective men, each engaged in an intense moment of consideration, questioning, searching, and internal struggle.

Coincidence or an a reflective snapshot of our time?
* * *
Big day tomorrow: presentation. "Speaky" lives.
Perhaps, I'll explain what that means someday.
* * *


home