---
Monday July 15

Extract from a mail I received at work today regarding MS group processes and getting stuff done:
"Have you ever heard that groups go through 4 stages? They are:

- Form
- Storm
- Norm
- Perform

The idea is that groups are assembled, go through chaos and friction, sort out the basics, and then evolve to a higher level of function. We have been stuck between forming and storming, but is probably moving beyond that. We have a lot of the pieces in place for general operation, but things are not efficient. To move to the perform level, we need:

-A super clear vision and high alignment of individual work toward the vision
-Focused roles and responsibilities
-Frequent and clear communication

Email and status reports arenít actually the best communication, in my view. They are important, but tend toward chaotic information exchange, with lots of context switches. The most successful groups also use routine meetings to reinforce focus and keep work aligned."
* * *


Tuesday July 16

Excerpt from a mail I sent answering some excellent << questions >> about SBRS:
"<< My conception is that your group is headed toward a sort of California Guitar Trio meets King Crimson sort of thing... >>

Nope - think Dave Matthews, XTC, Gabriel 1-4, Shawn Colvin, CSN, Sting, Rumors-era-Fleetwood Mac and that will be closer to my wish: rich music, unique arrangements, but totally built around pop songs with a twist. TravisH came up with a phrase the other day: math pop. There may be a few pieces in odd time signatures, but odd time is not the goal.

<< ...perhaps without a kit drummer initially. Is this is how you see the new group going? >>

No - the goal is to have a flexible line up that can meet the challenges of what ever gigs are available - everything from totally unplugged acoustic to totally plugged electric. This flexibility is essential given the diverse Seattle venues/audience."

* * *
Excerpt from a mail I sent today regarding this next period of work:
"SBRS has three very clear goals:

1. Deliver our product

2. Raise our profile in Seattle so we can get more people to our shows

3. Build a bridge to play in Japan in 2003

Seattle Circle could be a spring board to launch a team of world-class artists, instructors, and musicians working within a wonderful facility with audience, tools and staff that supports what we do. A too-small clubhouse for inactive pals who show up and do what ever is convenient is going to lead nowhere.

I would love to see you hit "Send" on your mail below to the entire board. It is extremely straightforward."

-s."
Unfortunately, hitting "Send" did not happen.
* * *


Thursday July 18

Poem of the day.
Q: What do I do at work?
A:
All day in an offsite meeting; no phones, email, outside contact. Simultaneously refreshing and exhausting. My brain is tired.
* * *
This just in c/o TravisM made me laugh outloud:
http://www.columbia.edu/~tdb29/dg_switch.mov
* * *
This just in from my dear friend Richard KeslerWest:
Report
by Czeslaw Milosz

O Most High, you willed to create me a poet and now it is time for me to present a report.

My heart is full of gratitude though i got acquainted with the miseries of that profession.

By practicing it, we learn too much about the bizarre nature of man.

Who, every hour, every day and every year is possessed by self-delusion.

A self-delusion when building sandcastles, collecting postage stamps, admiring oneself in the mirror.

Assigning oneself first place in sport, power, love and the getting of money.

All the while on the very border, on the fragile border beyond which there is a province of mumblings and wails.

For in every one of us a mad rabbit thrashes and a wolf pack howls, so that we are afraid it will be heard by others.

Out of self-delusion comes poetry and poetry confesses to its flaw.

Though only by remembering poems once written is their author able to see the whole shame of it.

And yet he cannot bear another poet nearby, if he suspects him of being better than himself and envies him every scrap of praise.

Ready not only to kill him but smash him and obliterate him from the face of the earth.

So that he remains alone, magnanimous and kind toward his subjects, who chase after their small self-delusions.

How does it happen that such low beginnings lead to the splendor of the word?

I gathered books of poets from various countries, now i sit reading them and am astonished.

It is sweet to think that i was a companion in an expedition that never ceases, though centuries pass away.

An expedition not in search of the golden fleece of a perfect form but as necessary as love.

Under the compulsion of the desire for the essence of the oak, of the mountain peak, of the wasp and of the flower of nasturtium.

So that they last, and confirm our hymnic song against death.

And our tender thought about all who lived, strived, and never succeeded in naming.

For to exist on the Earth is beyond any power to name.

Fraternally, we help each other, forgetting our grievances, translating each other into other tongues, members, indeed, of a wandering crew.

How then could i not be grateful, if early i was called and the
incomprehensible contradiction has not diminished my wonder?

At every sunrise i renounce the doubts of night and greet the new day of a most precious delusion.

--translated from the Polish by
the author and Robert Hass.
* * *


Saturday July 20

----- Original Message -----
From: "SB"
To: "RKW"
Sent: Saturday, July 20, 2002 12:04 AM
Subject: Re: report

Hi Richard -
Your timing is impeccable and your eloquence has me in awe. Excellent choice of poem and surrounding frame. I am in an ongoing mediocre funk, working hard at working, struggling daily to find or invite the motivation to keep going, working, playing, recording, repeating the same mistakes over and over again, each with a slightly new twist or dimple.

And somehow, about three times a week I absorb a glimpse of why, and about once a month I receive a blast of why, and on nights like Wed, I remember a person who was and still is.

The classic Yes reunion tour is worth seeing.
Those guys are getting really old, but the music remains timeless, from another world. The five aging guys on stage have almost nothing to do with the stories they tell.

I realized today as I was sitting in a meeting full of extremely bright Microgeeks that I am and always so attracted to Yes because I AM Yes: extremely positive, slightly incomprehensible in daylight, extremely
complex, full of counterpoint, knowingly pretentious, and not worried about it in the least because it's who and how I am; textural, moody, as likely to rock out as soothe you with machine gun cushions of fluorescent air-brushed non-sequiturs that will disarm and win you over in one high-pitched breath or drive you away with the same, which is all the better.

Missing you, but less since you wrote,
With love,
-Steve
* * *
Recording session in the afternoon, and post processing in the evening. Productive day. Up way too late, into the early morning.
* * *


Sunday July 21

http://www.steveball.com/music/SteveBall-NewYear.mp3
* * *


home


---


Monday July 22


Back to work. I have a great 'day' job. Wonderful people, incredible resources, and a constant education. Can't believe I get paid to do my job sometimes.
Other days, it's unbearable. Today, counting my blessings.
* * *


Tuesday July 23

Time to clear some backlog: About five months ago, I received an email from someone on the east coast named Jud Patterson who is in the business of making music oriented merchandise. He offered to send me some samples of his work: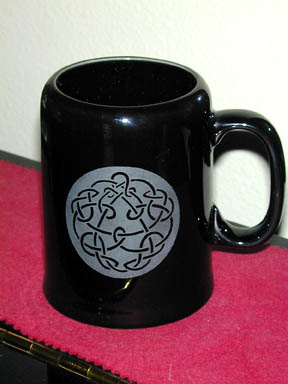 Very nice stuff. Seems he also does some stuff for David Bowie:
Looking for hand-crafted, high-quality, music-oriented merchandise? Drop Jud a line.
* * *


Wednesday July 24


On a related note, a kind gentleman from Germany, Peter Schell, also contacted me with an offer to buy some of his stock of rare ebonite picks. He kindly sent me a sample of one of his (rounded) triangular picks, sans emboss, but it is definitely ebonite (hard rubber like the fabled "Herdim" picks that are no longer available anywhere in the world unless you were one of the few people who bought them up from Guitar Craft Services in the late 80s.)
Peter also says he has a few of the picks in his collection that were traditionally used in the early days of Guitar Craft. Price seems a bit too steep for me, but perhaps there are a few other desperate Crafties out there looking for triangular ebonite picks?
* * *


Thursday July 25

Some hoopla rising out of the unfortunate fact that Starcastle has canceled their upcoming appearance at ProgDay during labor day weekend later this year. Perhaps a chance for SBRS to hit the east coast with our version of Back in NYC for an audience of 1,000 spectacles-wearing Gabriel fans singing along at the top of their lungs: "So you think I'm a tough kid...?".
We shall see. Jud Patterson is on the case.
* * *


Friday July 26


A potential Wedding show for SBRS in September falls out of the sky thanks to old pal Emily Geballe. Working on logistics, but sounds hopeful.
* * *


Saturday July 27


More recording. We have some ambitious goals. What else is new?
* * *


Sunday July 28

Off. An afternoon at the "beach" if you can call it that. A joyous afternoon, nonetheless.
* * *


home