---
Monday March 31

My BTV 'dynamic timeline' dream is alive again, this time in the form of a morphogenicly resonant version that has now magically sprung to life from brain and fingers of a wonderful acquaintance in the SQL team.
If Windows XP is DOS, then this is Windows 2007.
* * *


Tuesday April 01

More hard disk woes this evening as TravisM and I spent time working on mixing the instrumental version of Kneeling Down featuring special guest Chris Gibson on loose and liquid electric guitar solos.
Having learned a lesson from the drive crash a few months ago, nothing was lost, however, this means tomorrow night I have to do more time-sinking hard disk maintenance.
Looking forward to completion of this project and trading in my museum-quality mac for a 3GHz, 1GB RAM, 250GB HD Windows XP music machine.
Worked later than I had hoped, and missed an opportunity to connect with David LaVallee who is experimenting with a potential pick production project. I'll be giving him a couple of my LAST FEW REMAINING HERDIM PICKS with the hope that finally, finally, someone will manufacture a viable replacement! Fingers crossed.
Plans to connect on Friday afternoon. Excited to hear more about his recent start-up milestones.
Picked up slices of pizza for dinner this evening and was pleasantly surprised to hear "And You and I" was playing on the DMX radio that feeds my local pizza joint.
Amazing to compare life with and without a soundtrack.
* * *


Thursday April 03

Long and frustrating day, one of those days where technology just does not live up to its promise and entropy spoils the party demonstrating once again that every small problem is actually a four-hour problem incognito.
Evening tracking, mixing Chris Gibson's firey solos into Kneeling Down, part two of the Tuesday evening work.
A Whidbey Island house concert confirmed for May 17th, and KSER radio show confirmed for May 14th. Good timing on at least one front today.
* * *


Friday April 04


A visit from David Lavallee at work today. David came over to pick up Herdim guitar picks for the not-so-secret pick project he is exploring. He also gave me the latest build of the product being created in his current start-up, Instapix. It is pretty cool. http://www.instapix.com. I have galleries there now with early versions of artwork for the 3 CD box set. Email me if you wish to receive an invitation to join that gallery on instapix.
Two parallel start-ups are cooking right now (one with DavidL and one with SteveT) and both seem to be funded, both have some potential to become bricks in what might have been characterized a couple of years ago as a BootlegTV house.
* * *
Then an unusual evening out for me at the Ranier Club. Home later, got my wacom tablet working again with a serial to USB adaptor.
Some drawing projects in the air inspired by some websites that TravisM has turned me on to over this past week. One of the most inspiring sites was TM's very own site that shows off his considerable talents with 3D studio max.
* * *


Saturday April 05


* * *


Sunday April 06

* * *


home


---


Monday April 07


Today begins a four week "Drawing Of The Day" commitment; this is a project designed to generate artwork for the soon-to-be-released SBRS box set.
I've asked TravisM (and PabloM) to join me in rendering one 'themed' drawing per day (themes taken from the 42 song-titles for the box set) and Travis has accepted the challenge - Pablo, who is facing an up coming intercontinental move, is not sure yet. This first week, I'm sure we will be working the bugs out of the process, however, bugs and all, it is still valuable to share the scaffolding on the way to the sculpture.
This relates to a strategy I use at times to get myself off of my tush and 'complete' a project: announce a deadline in public.
It may be that this commitment to drawing/painting time will eat into my already intense and time-constrained so-called life. If the words here trail off over the next 42 days, consider these pictures to be the non-verbal translation of what I would have written minus the innuendo, nyah-nyahs, inside-references, and normal diarisms that pollute the otherwise completely objective view I normally present in this space.
Did I forget to mention barely veiled-sarcasm, disgust and irony?
* * *


Tuesday April 08


Surprise at work today as Jaxie and Isabel showed up to take Bob (and me) out for lunch to celebrate Isabel's 7th birthday. Isabel told me she was going to be having a slumber party later in the evening featuring pizza and popcorn. YUM!
* * *
Evening live rehearsal with TravisM at HQ this evening, beginning to dust the cobwebs on our live repertoire.
* * *
* * *


Wednesday April 09

Did some minor debugging of Instapix. Very cool - it's come a long way since I saw it last. Excited to use this to share the Drawing of the Day collection.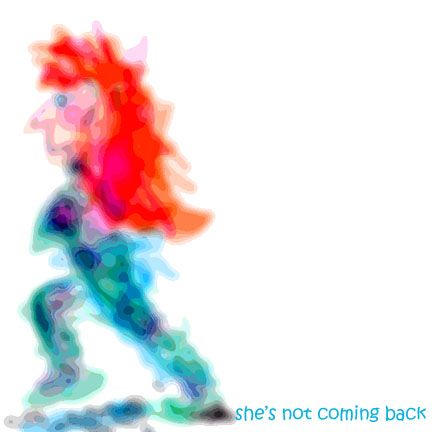 tiptoe through the trashpile
this little stretch stitches one thousand miles
donít step on cartons empty pop-top flip-up fold-out throw-out
would-be oils bins half-spent has-beens

the future is all sewn up sealed in plastic, plastic bandage
and weíre hardened, hard of hearing, out of feeling, out of healing
weíre so hungry and there is nothing but the future to bite into
with our ears plugged-up with cotton, presence absent, long forgotten
the future is all sewn up

all the facts pour from the factories Ďtil they rain down on the wheat fields
and the harvest brings and answer from the top soil to the farmer
better move out to the mountains, wake the children, pack the house up
cause the bread comes sealed in plastic with a shelf life that surpasses
twice the half-life of the landfill at the last breath of the planet
the future is all sewn up

the future is all sewn up sealed in plastic, plastic bandage
and weíre hardened, hard of hearing, out of feeling, out of healing
weíre so hungry and there is nothing but the future to bite into
with our ears stuffed full of cotton, presence absent, long forgotten
the future is all sewn up

got a relation, needs a vacation
short on elation, long son frustration
I try to be pay-shunt, no motivation
no integration, no celebration

pick up yer baggage
itís time to go home

alienation, no cwoop-ration
all hesitation, all perspiration (aggravation)
thought we both were leaving the station
Iím on a freight train, sheís on an airplane

I put the cart before the heart
now thereís no more horse around

one resignation, a pithy quotation
a realization, a sterilization
try liberation, try hibernation
I got paralyze-ation, heart amputation

I put the cart before the heart
now thereís no more horse around
better pick up my baggage
and get out of town

a rapid solution, eee-motional pollution
no substitution, no resolution
Iím short on elation, long on frustration
I got a relation, that needs a vacation

canít find my baggage,
but itís time to go home
I know itís Ďround here somewhere
but I gotta go home
might have left it at her house
now itís time to go home
where are all the others
mothers fathers missing brothers
where are you?

what are all these whispers
bleeding blisters crying sisters
where are you?

sell me out
cash me in
pick me up
lay me down

down in the basement
found a replacement
up in the ceiling
Mary is kneeling down

who hired all these talk-show scholars
lending spending rubber dollars
in my name?

who inspired this royal highness
spineless blindness clueless genius
that we blame?

try it on
show it off
put it down
blow it off

down in the basement
found a replacement
up in the ceiling
Mary is kneeling down
* * *


home