---
Having had a bit of "down time" this past couple of weeks due to my herniated disc has been a mixed blessing. Maybe this is my body's way of telling me to slow down (again.)
Between juggling an intense 'sophomore' year in a high-visibility MS Program Manager job with equally high expectations and associated day-to-day stresses, and working to be an honorable mid-wife to 45 songs sprayed across three CDs in a way that tells a coherent three-part story, life at 40 is a complex juggling act. These activities occur in the primetime foreground while limited background energy is rationed to feed relationships with a few close friends, family, and band-mates while struggling to continue to grow in my relationships with singing + songwriting, while at least maintaining dexterity on a couple of instruments.
The ambition and motivation that fuels this juggling is my (in South American Guitar Craft slang) 'pelota' nature, and I have accepted that it is as unalterable as my skin tone and body type.
I remember first reading something about Maslow's 'pyramid of self-actualization' when I was a junior in HS (in Mrs. Penson's humanities class where a room of middle class seventeen year olds were actively encouraged to explore the arts via participation and simultaneous self-study.) From what I remember, self-actualization was presented as a sort of luxury that is attained only after the basic needs of existence are met: food, shelter, health.
I don't remember if and/or where love fit into Maslow's hierarchy. Either way, after reading this at seventeen, I remember feeling a strong incentive to 'actualize' myself, whatever that means or meant.
* * *
Speaking of actualization struggles, interesting to see and feel Seattle Circle struggling with its identity, mission, and goals (again), this time in relation to a web redesign. This is happening at the same time a few exploratory email exchanges have been sent out with questions about logistics and plans for the immediate future. Yay: I'm all for taking stock of where we are and where we are going at regular intervals.
Deja vu.
Every GC-related group, performance project, recording project, start-up, that I've been involved in for the past 25ish years or so has regularly struggled with this ongoing 'identity' issue. ASS-uming that two people in any group speak the same language, share the same aims, or see eye to eye on anything is a recipe for disaster. In business, at least the hierarchy and guarantee of the paycheck for services offers condolence for those whose vision, tasks, or ambitions do not align with those of their boss or company.
Who am I and why am I doing what I am doing?
Sometimes I wonder: am I the only person who feels a real need to ask (and answer) this question every day before diving into the hustle and bustle of the stuff that consumes my always-double-booked calendar?
* * *


Tuesday April 29

Stopped by to visit a new potential facility for Seattle Circle work (an old theatre directly across from our current rented house in Ballard.) While this is probably not the place for us (it would take way too much overhead work, preparation, and cash to make this space even remotely viable) visiting and considering a possible future that is radically unlike the present space and place we occupy in our community re-ignites the growing discontent I feel between who and how we are today and who and how we could be in the future.
There are at least two things Seattle Circle team does not have in significant quantity: 'free' time and cash. Interesting to look at the idea of 'free' time. Looking at these words literally, it may be that 'free' time is time that has neither cost nor value (making it free?) Or, 'free' time may simply be time that is 'free' of restrictions, limitations, and constraints on how it is to be used?
However, by any definition, Seattle Circle, in its present configuration has neither the time nor cash to deal with a place like this theatre.
But encouraging that this kind of exploration is happening.
Photos from the recent LisaH session beginning to pour in: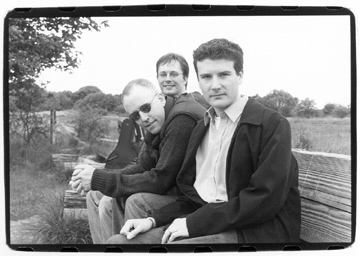 * * *


Saturday May 3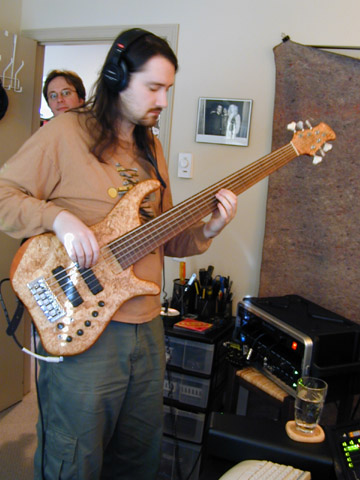 Found this, taken while Taylor was in working on a bass part for "Rhapsody."

* * *


Sunday May 4

Preparing for travel tomorrow. Laundry keeps on coming. Just like death and taxes, except more frequent.
* * *


home


---


Monday May 5

Flying to New Orleans for WinHEC (Windows Hardware Engineering Conference.) Made a long list of open ended things to do using MS OneNote (new program that is part of Office 2003.)
* * *


Tuesday May 6

Offline - drat! This alleged high-class hotel has no high-speed internet. I'm not willing to endure modem connection horses**t so offline I will remain until I get home. Spent much of the day showing off Windows Media Center Edition in the MS booth today.
* * *


Wednesday May 7

Dress rehearsal this evening for my talk tomorrow. I'll be speaking in the same hall (same time, 9am )where Billg gave his talk on Tuesday, and Will Poole gave his talk today.
* * *


Thursday May 8

Spoke at WinHEC this morning about "Windows 'Longhorn" Audio Video User Experience." Big hall. Very big hall...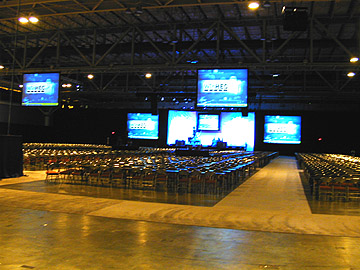 Played an afternoon BBQ Birthday party at TravisM's house for a living room full of friends including Travis' Mom, Dad, and Sister.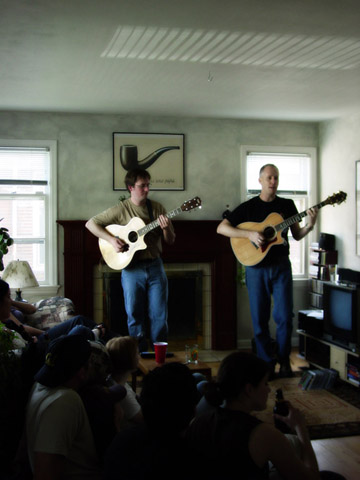 Phunky photo manipulations by TravisM.
Recovering from WinHEC. Much to do.
* * *
A growing number of new pictures, even early SBRS CD artwork is beginning to show up in my Instapix galleries. Go to instapix NOW and download the program if you wish to share photos with the most interesting and inspiring wing of the Seattle Circle extended community.
< wow - how's that for a compellingly controversial comment? motivated to check it out yet? I am absolutely serious... >
My Instapix screen name? "pelota" of course.
* * *


home