---
Discovered today that a paper I co-wrote with my MS pals Patrick Baudisch and John Pruitt on next generation Volume Control UX has been accepted for publication at the CHI 2004 conference. One small but significant victory for a Longhorn AV Program Manager, one quantum leap for next 15+ years of Longhorn users who will no longer have to suffer with SndVol32 and impossible Windows mixing infrastructure.
* * *
In news of other significant milestones, Seattle Guitar Circle community meeting and Seattle Circle, Inc. board meeting this evening chez Bob and Jax.
I stopped on my way over to pick up six cheapo bottles of wine and some plastic glasses, realizing that we were a couple of weeks overdue for a toast to the 10-year anniversary of the 1st Seattle Guitar Circle meeting that happened in 1993.
Earlier in the day, BillR and I discussed getting the original 1993 SGC team together to capture some of our history for inclusion in the larger GC history that DebraK will be compiling over the next three years.
In 1993, there was no such thing as a "Guitar Circle." There had been a number of League-spin- off groups, bands, and projects (NY Project, Chapter Two, Ensemble of Crafty Guitarists, etc.) but the term "Guitar Circle" was not no where to be found in common use until the Seattle Guitar Circle was born in Bill Van Buren's Ballard basement in the fall of 1993. I believe the name was first used in an letter describing this new group that had sprung up in Seattle coinciding with Karen and my arrival here. Over the next month, I hope to mine my early journals and diaries from Seattle to trace the origin of the use of the name.
The character and identity of SGC work and practices has (remarkably) not changed a great deal since our early days of working with "embroideries" (now more accurately and formally described as "Group Loops") our own repertoire and circulations. BillR's piece "Invocation" was born in some of these early SGC meetings.
* * *
The SC/SGC meeting tonight was well attended - Jax said she counted 23 bodies crammed into her now-seemingly dinky living room. A sign of energy and enthusiasm in exploring possibilities for next year.
My job over the next weeks: to follow-through with clarifications on the proposals I've made. In general, a good show support from the Seattle community. We finally may have sufficient mass to move a mountain in Seattle.
Or perhaps we might work together to turn mountains into molehills. < this piece so named because my focus next year is to change the perception that improvised circulations, group loops, D-warm-ups, and the like could and should become the primary ingredient of our rehearsals and live work (rather than constantly repeating the repertoire we've been playing for the past 17 years.)
The problem is not that we are not capable (for example, as this totally improvised track from Knotwork shows.) The real work is in changing our perception of the size of this intimidating 'improvisaton' mountain that is part of what prevents us from being musical in everything we do.
In performance we are faced with some obvious but frightening questions:
1. What should I play?
With a 'fixed' repertoire, this question is (mostly) answered. With improvisation (games, group loops, circulations), this question requires the musician to have enough presence, attention, and skill to both listen and respond to what is already happening in the room. Or in some cases, to first listen to the silence and 'discover' what will be played next.
2. How should I play it?
If the musician is actually present and listening, they will play in a way that complements what else is happening in the situation - this is the role of 'harmony' that comes with a decision for me to provide what you need to make what you are doing 'sound good.' If two musicians are just cranking through their series of notes, then very little harmony will happen -- however, if both players are working to 'harmonize' with each other then 'music' is likely to descend and transform streams of random notes into meaningful sentences with emotional and intellectual value. It's the difference between a real conversation and reading from a book. Great ideas can come from reading a story from a book - but that is a radically different experience than living a story.
So, question of the year in 2004: How can I be 'musical' in everything I do?
Related practical question: What are the 'primaries' for being musical?
Here are four quick answers to the 'primaries' question:
1. Ear-training: if I can't hear what notes you are playing (example, what key we are in) then the possibility of 'conversation' in the same key/scale (language) is limited.

2. Follow-the-Leader: a group 'game' in which players practice quickly 'learning' what the person next to them is playing. This builds the skill of being able to effortlessly play what someone else is playing. This also builds the skill in being able to effectively 'transmit' what you are playing to someone who may not speak your language.

3. Group Loops: this builds on 1 and 2 above and assumes you can hear the notes I'm playing AND find a 'harmony' part that complements it. It also assumes i can dynamically construct a musically meaningful sentence (a phrase) on demand.

4. Music Direction: this involves one person in the circle taking the role of "Director" and leading the group out loud, in real time, to provide specific direction regarding all of the parameters that determine the 'musicality' of a performance such as: key, scale, tempo, dynamics, tone, who's playing when, timbre, location, orchestration, etc. The person in this role can serve to completely re-factor the musicians understanding of 'how' a piece might be played so that instead of 'Eye of the Needle' being pumped out at a 'fixed' tempo and dynamic, the Music Director might suggest we play the entire piece pianissimo, muted, with a capo on the third fret.
A Music Director's job is to use tools and direction to 'unfix' the musicians from their otherwise sleepy, isolated state, and to frame the performance in a way that wakes up both the players and the audience to something that has never been heard before - even if it is the same piece of music.
* * *
Robert has always said (my paraphrase) that "the focus of Guitar Craft is not on 'what to play' but rather on 'how to play'." We regularly contradict this principle by our recent and extreme emphasis on the historical repertoire. Lately, the focus has been EXCLUSIVELY on 'what' to play.
* * *
Speaking of being up at least an octave, Curt received this in the mail today from someone who was either rummaging through a shoebox recently or someone who did the 'underground Crafty tour' of Charles Town West Virginia: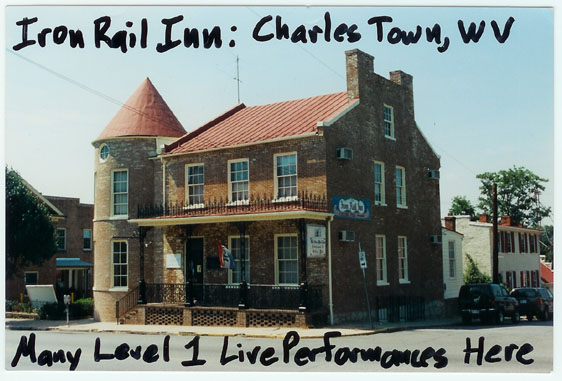 * * *


Tuesday November 25

Up at 5:30 am after finally turning off the light at 2:00am. Flying to Atlanta for Thanksgiving. Managed to grab a mushy morning mocha at the airport before beginning three weeks of exploration and testing of my tolerance for separation and a smooth cross-fade.
Wow, how weirdly vague was that?
* * *
Tasks for this next two weeks:
Complete DGM/Plague Compilation CD artwork

Complete Exec Summary for MS Side Project #1

Complete next draft of ADSW spec

Prepare Provisional Patent apps

Braindump into UI and Policy Whitepaper outlines

Follow-up mail to early SBBS recipients

Prepare more Weedshare files for SteveT

Give my nephew guitar lessons

See 'Elf' with sis and nephews
A full day with my immediate family. Sent my first text messages today on my bogus cell phone. These devices are still v. primitive compared to what they will be in five years or so.
Reading an excellent book recommended by David Lavallee while I'm here: Linked.
Reminds me of two other pivotal books that, many years ago, influenced who and how I am:
* * *
I wonder what the biological purpose of jealousy is? I wonder if "Ask Jeeves" still exists and is any better than it was a couple of years ago, last time I used it?
Jeeves, "what is the biological purpose of jealousy?"
Nope. Jeeves has no idea. However, Jeeves does recommend a ton of jealously and psychological counseling resources on the web. And, it looks like Jeeves has a new paid ad placement business model that totally overwhelms it's usefulness as a native language search engine. Oh well - seems the only thing Jeeves is really searching for is a business model.
Happy Thanksgiving!
* * *
One advantage of visiting my parents and sisters during holidays: lots of time to think outside the box of my otherwise fully-engaged, booked-in-advance, inbox-challenged, always-on, always-online, always multi-tasking so-called life.
Evening: "Elf" with nephews, mom, and sisters. I love Will Ferrell. Despite the choppy script and lame-o plot, I laughed hard at a few key moments in ways that made the otherwise mediocre film worth seeing.
Favorite line (Elf to fake-Santa): "You sit on a throne of lies!"
My sister Julie has just moved into a new house. My primary job: get the stereo and PC connected and working. Unfortunately, my dear sister has not run Windows Update on her WinME box in over 30 months. Hmmm, within 10 minutes of my turning it on, this virus-pit that was her old computer is now history -- so the boys and I went shopping for her and picked out a cheap-o eMachines XP machine which is now (slowly) downloading 30M of patches over her 56K AOL connected micro-pipe.
Geeze.
Can you say "DSL" for Christmas? Sure, I knew you could.
* * *
Also, putting last-minute touches on the DGM/Inner Knot compilation artwork. Realized I am still missing some data on 3 tracks so managed to send out email to stragglers. Otherwise, the art is looking pretty good.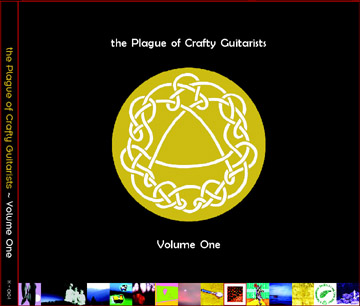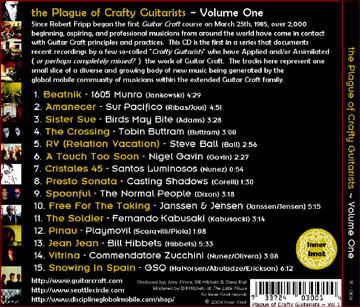 I realized something today in reviewing Curt's diary about his lack of interest in 'Soundscapes recordings.'
It triggered a memory a conversation with Bill Rieflin last week where I was describing the function of "Knotwork" (CD3 of SBBS) as "wallpaper music" - going back to Eno's ambient music descriptions in the 80s - that can be put on and ignored or listened to, as the listener requires.
Bill's comment was something along the lines of "I hate wallpaper music. When I listen to music, I listen."
In putting Bill and Curt's comments together, I realized something about my own use of music as a catalyst for other means of work. I spend a great deal of time drawing, writing, and doing tasks which are facilitated by music gently pumping unobtrusively, but interestingly, in the background. Tasks where the music is not actually the foreground focus.
I am a graphic artist. For me, this 'wallpaper music' is a form of music for artists.
Music for artists, functions as a very real catalyst. It is sort of like the bias current that enables my creative electrons to move. Or the dither that helps smooth out the quantization errors.
All I have access to right now are these geeky metaphors, but there is a seed here worth pursuing. Much of the music I write (and listen to by other artists) is by definition, 'background' music that is designed to wake the listener up just enough to remain engaged and awake in a foreground task while staying connected to a sense of self and higher power.
Examples of "music for artists" in my constant roation list: Music for 18 Musicians, the entire Gauchos and Electric Gauchos catalogue, and more recently Bill Frissel and the Intercontinentals.
Well, duh.
* * *
Picked up a new magazine at the airport today: "Tracks," issue #1. Looks pretty good, sort of a Musician circa 1980 feel to it. Surprised to find a picture of Frank Sheldon on page 166 showing off his new 'look' in Half Life 2:
* * *
Finished reading "Linked" on the plane as well (thanks again to David Lavallee for the great recommendation.)
This is an important book that defines a next generation of problems to solve and as well as explores some of the insights that have been uncovered in the past few years about the complexity and laws of networks that lurk just beneath the surface of everything we do, touch, sense, see, or post on the web.
"Whereas the twentieth century was seen as the century of physics, the twenty-first is often predicted to be the century of biology. A decade ago it would have been tempting to call it the century of the gene. Few people would dare say that any longer about the century we have just entered. It will mostly likely be a century of complexity. If there is any area in which network thinking could trigger a revolution, I believe biology is it."

~ page 197, Linked, the New Science of Networks, by Albert-Laszlo Barabasi.
Sometimes I find it ironic that my first start-up out of college was a dinky little MIT spin-off called "Adaptive Networks." AN's mission was (and may still be) was to send secure, intelligent signals over AC powerlines, a notoriously noisy medium. In many ways, this is not that different than my physical layer music mission(s) today: to receive and retransmit signals (music) across another extremely noisy medium: complex, distracting, life in 2003.
My goal with SGC next year: build a bigger antenna made from an adaptive network of musicians, students, and audients.
I would paraphrase Barabasi's last line: if there is any area in which network thinking could trigger a (local) revolution (in Seattle, and perhaps globally within Guitar Craft), I believe the SGC working with Circulations, Group Loops, and structured improvisation is it.
Within these forms of dynamic group work, Grace and the potential, network-driven, intelligence the that innately exists between us has a new medium through which to flow.
Or we could continue to strive to 'perfect' Eye of the Needle for another ten years? I wonder why a piece of repertoire that (played on plastic guitars by hyper-critical depressed dudes) sounds sloppy when played fast and dreary when played slow is not inspiring a new generation of guitarists to take up this work?
* * *

Sunday November 30

2:20am Just home from a Posies private party at the Tractor. Ran into old friend Joe Skyward who is up visiting from LA and sitting in with his old band on two songs this evening. And he rocked.
Managed to finally drag CurtG out for an evening of reconnection, too. Seeing Curt and BarbaraM in the same room was something of a time warp.
In "Linked" terms, Barbara is a 'connector' - she is one degree from everyone who is anyone in the Seattle music scene. Two degrees nationally, and still less than three globally. Plus she is a wise soul and part of the 'nice network.' After the show she gave Curt and I a small brain dump on her vision for her new label. Resonance. And familiarity. This was a conversation that felt like coming home. And some of the early energy that inspired BTV was tangibly present in the room.
* * *


home


---
Not a bad day considering only 4 hours of sleep and a million back-to-back tasks to do at work. I'm juggling in full-Pelota mode now. Likely to remain this way through Christmas. Hoping to slow down during the Christmas week. Then next year, if all goes as I hope, will be a full commitment year. Realized recently that I'm looking at next year as my own sort of next-Level-4. Nothing formal or external to measure this with (yet) but one of the advantages of self-sufficiency: I'm living in and on my own 'course' now.
It's still connected to the current and former courses (and everyone who is working.) But it's my own work now. In 'Situational Leadership' terms, this next year is a decade of D4 work for me.
* * *


Tuesday December 02

Did a wide design review today of the "Plague" CD artwork. A few last minute typo tweaks and photo adjustments. And general wafts of approval from across the ocean helps too.
* * *
Dinner at my desk tonight, due to work overhead reporting. A necessary evil part of a self-correcting product development process. Dinner was delivered by the cheery "back from the dead" delivery service. I realize now that I did not tip enough.
I'll have to return the favor x10 next time.
* * *
Evening: 2 hour rehearsal with TravisM. A good kickoff to our next phase together. I'm sooo happy he is home. Also, JoelP over this evening beginning what I hope will be a mutually useful process of "help Pelota get stuff done" push during the month of December. Primarily: promotion and art preparation. Great to have him on board.
* * *
Multiple, wonderful and colorful email exchanges with BillR today. Fine tuning a snapshot of who, how, and where we are. Shining flash lights on each other to see what shapes they make. Not all fit for public consumption, but perhaps some, later this week when I allegedly have more time. Being that it's 1:48am right now and I'm not done with my task at hand, that may be the weekend.
SGC rehearsal this evening.
Curt asked me to sit in for the shows this weekend because attendance was looking light. I reluctantly said yes, but should have stuck to my guns. So, even though I was asked to participate, I am going to bow out because attendance is now up, and I have prior commitments and other priorities.
So I went to get a flu shot at work yesterday after procrastinating for the past two weeks. And turns out that today I woke up with the flu. Isn't the shot supposed to stop this from happening?
Oh well, the one good thing about feeling so shitty: I think I invented a new phrase today that captures my present means of typing these words: "Bedtop Computing." Here is the formula for Bedtop Computing: wireless + laptop + pillow to keep my 8 lb laptop from setting my legs on fire.
* * *


Friday December 05

Still no better today. A bit worse in fact. Staying in to weather this mini-flu. I suppose this self-induced flu is better than the flu I might have gotten naturally? MitchR was right - as I left to go get my shot, he bet me $5 that he would not get the flu, and that I would.
I owe Mitch $5.
* * *
Phone call with PatR late afternoon. Great to catch up. Need to send out evites to the Seattle Art Show that is happening next weekend. When my energy is back.
* * *


Saturday December 06

An interesting thing happens when you line up the four DGM/IK/GC/SC knots:

An even more interesting thing happens when you print them out at 300 dpi with a high-quality printer onto watercolor paper.
* * *
Task at home for the weekend: more bedtop computing and preparing "song tiles" knotwork, and images for the Seattle Art Show next weekend.
Still a bit under the weather today. Blew off two social engagements last night after feeling pretty bad in the early evening. Taking it easy today so I can be back in full force for a v. busy next week.
* * *
Cute: found this on FC.com:

* * *


home